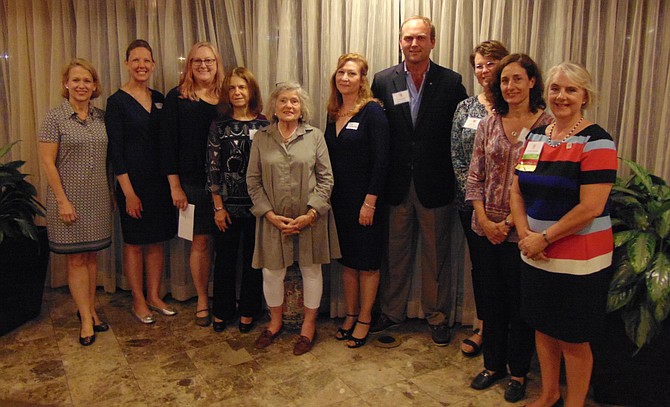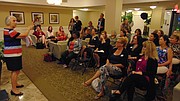 At its first meeting of the club's new year on Monday, Sept. 17, the New Dominion Women's Club disbursed $14,400 to four of its selected beneficiaries – each receiving checks for $3,600. Recipients included: McLean Project for the Arts, Safe Community Coalition, Share of McLean, and Friends of Pleasant Grove.
The money was raised through the club's fundraisers that were held during the 2017-2018 club year, which were the Arts Night Out with MPA, the Spring Fling Fashion Show with Bloomingdale's, and the "50-50" Raffle at the 50th Anniversary Celebration at the Pavilions at Turkey Run in May, according to Jennifer Salopek, New Dominion Women's Club President.
About 40 club members sipped wine and sampled hors d'oeuvres at the Ashby in McLean where they also introduced new Board members, promoted the calendar of events for the Fall, and welcomed five new members. "And we think that our programs and activities for this year are off to a great start," said Salopek.
The recipient of a $3,600 check, Lori Carbonneau, Executive Director of the McLean Project for the Arts, said: "What's so distinctive about the New Dominion Women's Club's support is that it's not only financial, which is robust and one of our top donors in the community, but they also help with their heads and their hearts and their hands." She's referring to the upcoming MPA Art Fest on Oct. 7 in McLean Central Park where the New Dominion Women's Club hosts the Children's Art Walk.
Another recipient, Judy Mueller, Vice President of Development for Friends of Pleasant Grove, added: "Historic Pleasant Grove is a unique community treasure, preservation of which is supported by this group of wonderful women. They understand that its history, its structure, its position in our community is unlike anything. …The fact that it's been saved and preserved for the preservation of our history as a historic museum; it's no longer a consecrated church – it's a museum where people can gather, study and learn about our growth and development. So, we are so thrilled to be the recipients of the philanthropy of people who feel likewise."
Recipients Chris Wilbur and Erica Shane are Share of McLean's food pantry and clothing room co-chairs and board members. "The New Dominion Women's Club has been a long-time community partner. And because of their assistance and the assistance of other community partners, we are able to help more than 300 needy families from the McLean, Great Falls, and Pimmit Hills area each year. …Their donation will provide our Neighbors in Need with food, diapers, school supplies and emergency financial assistance. We are 100 percent volunteer-run and 100 percent community funded so we greatly appreciate this important relationship," said Wilbur.
For more information on the club, visit the website at: www.ndwc.org.