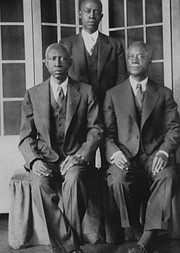 George Washington Martin was a free person who came to Alexandria, Va. from Rockville, Montgomery County, Md. during the Civil War. George was a skilled shoemaker. He not only made shoes for people but he also made shoes for horses.
Shortly after the Civil War, George met Eliza Lomax in Alexandria. They were married by Pastor George Washington Parker at his home on 67 St. Asaph Street on Dec. 20, 1866. Pastor Parker was the minister at Third Baptist Church. It still exists, with a dedicated congregation. Eliza Lomax Martin's third great-grand nephews — Donald, John and Alvin Taylor — attend Third Baptist Church.
George W. Martin and his wife, Eliza had three boys — Samuel, John (Johnny) and Solomon — prior to 1900 when the family was living on St. Asaph Street. George's son, John Washington Martin joined him in the shoemaking business.
John Washington Martin married Fannie Kyer on Jan. 3, 1899. They had three children and one died when he was an infant. Their other children were John Theophlius Martin and Nellie Martin.
Nellie was born in 1908; she spent her early education at Hallowell School for Girls and she attended Parker-Gray School. She became a teacher in the Alexandria School system. She married Joe Greene. Nellie died at the age of 70 in Alexandria on April 27, 1978. Her brother, John T., went into the family shoemaking business which made him the third generation of shoemakers. The Martin's Shoe Shop was the place to go when you needed shoes and shoe repairs.
John T. Martin was born in 1904 in Alexandria to John W. Martin and his wife, Fannie M. Kyer. The family lived at 626 South St. Asaph Street. John T's early education was at Snowden School for Boys. He worked side by side with his father, first at their home at 626 South St. Asaph Street, and then at the eight-room house his father built at 521 Gibbon St. His father, John W. moved his business next door to 523 Gibbon St. at his new home. Father and son worked together at the shop until John W., died on Nov. 27, 1943. John W.'s wife, Fannie, had died two years earlier.
John T. Martin was married to Margaret. They had two children, Theola and Norman Martin. John continued to run the family business until a few years prior to his death. John was a shoemaker and shoe repairer. He died on March 22, 1967 when he was living with his sister, Nellie at 305 Laverne Ave. He was buried near his parents at Bethel Cemetery in Alexandria. Some older Alexandrians still remember him as the "shoe and repair man." His daughter, Theola Martin Chambers, lived in Alexandria until her death in 2012. His son, Norman Martin, died in 2011 at the age of 85.
Since the Civil War until the death of John T., the Martins had served their community for over 100 years. Their customers were businessmen, teachers, students, government workers, city employees and shopkeepers. The Martins went beyond people's expectations of a shoemaker. They were dedicated to their business and their customers.
Char McCargo Bah is a published author, freelance writer, independent historian, genealogist and a Living Legend of Alexandria. She maintains two blogs, http://www.theotheralexandria.com and http://www.findingthingsforu.com.