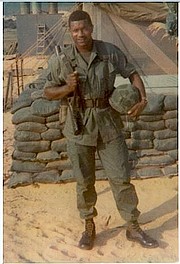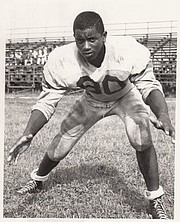 In Washington, D.C. near the Lincoln Memorial is a black granite memorial erected for the Vietnam Soldiers who had died in action. On that wall, they listed over fifty individuals from Alexandria, including Private First Class Raymond Leroy Williams.
Raymond joined the United States Army after 1963. He was deployed on Oct. 26, 1968 to Quang Tin Province in South Vietnam as a member of D Company 3rd Battalion, 196th Infantry Brigade. His service occupation was light weapons infantry. Within six-months, Raymond ran into enemy fighters. He died of multiple fragmentation wounds on May 13, 1969. He was just 25 years old and he never fulfilled his dreams of going to college and becoming a teacher.
Raymond Leroy Williams Sr., was two years old when a car, three miles south of Alexandria, hit his father, Partee (Pertie) Williams. His father died from cerebral concussion and a fractured skull. Raymond's mother struggled to raise him and his siblings, but once he got older, he became responsible for his mother and siblings. This helped him to develop his leadership skills.
Raymond attended Parker-Gray High School and he excelled in his classes. He was a popular student and he belonged to the History Club, The "P" Club (a letter club) and the Art Club, he was also the captain of the football team. His nickname "Pork Chop" came from his love of that particular food. Family and friends who knew him said he wanted to become a teacher. He was given an opportunity by his art teacher to teach her class in his senior year in school. He taught the class for several weeks.
In 1962, Raymond with 59 other students graduated from Parker-Gray High School but Raymond never attended college. He got married in 1963 to Norma Ross. His son, Raymond Leroy Williams Jr., was born in the same year.
His parents were Pertie Williams and Eliza Elizabeth Cheeks. They were married in Alexandria in 1943. Raymond was born at his parents' residence at 312 Princess Street on March 25, 1944. After the death of his father, Raymond, his mother and siblings moved to 330 South Patrick Street.
Raymond's name shines on the black granite with 57,938 other Americans who were casualties of the Vietnam War at the Vietnam Memorial in Washington, D.C. He is listed on Panel W25, Line 114. There, he is memorialized as a fallen soldier who won the Purple Heart, National Defense, Vietnam Service and Vietnam Campaign medals.
At the time of Raymond's death, he was survived by his wife Norma; son, Raymond Jr; and daughter, Lisa. His mother, Eliza Elizabeth Cheeks Williams Washington and his siblings, Johnnie, Brenda, Freddie, George, Darlene, Maryland, Juanita, Eddie and Carolyn survived him. He was buried at Arlington National Cemetery.
Along with Raymond's family, we Alexandrians will remember to salute Raymond and all of the fallen soldiers for their sacrifices and contributions they made for the Country and us.
Char McCargo Bah is a published author, freelance writer, independent historian, genealogist and a Living Legend of Alexandria. She maintains two blogs, https://theotheralexandria.com/ and https://findingthingsforu.com/