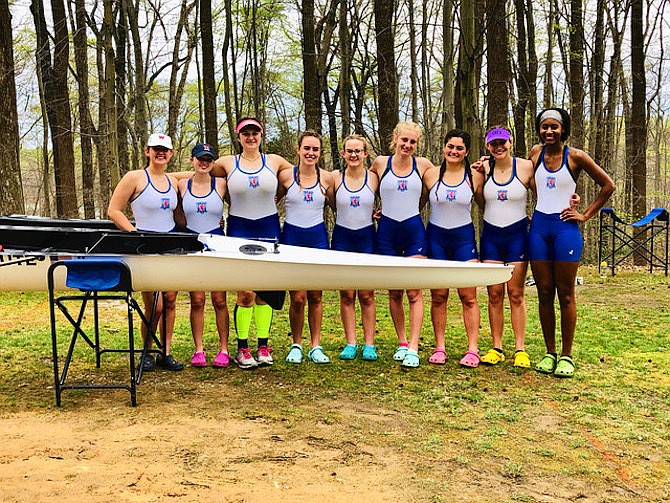 T.C. Williams women's frosh eight took gold in the Darrell Winslow Regatta, and a bevy of varsity boats won medals, including the men's third and fourth varsity eights, and women's second and third varsity eights, and the women's lightweight eight.
The crew team is coming off a strong year last year and strong performances in the first regattas of this spring season, but faced stiff competition on a balmy spring day at the Occoquan Reserve before crowds cheering with megaphones and ringing the traditional regatta noisemakers: cowbells.
With a time of 5:30:72, the frosh women's eight topped West Springfield (5:46.75) and Lake Braddock (5:47.61).
The women's second varsity eight placed first in its heat and then took silver with a time of 5:31.58. Bethesda-Chevy Chase Crew had a time of 5:25.30 and the boat winning bronze, Oakton, had a time of 5:37.45.
Second eight coxswain Caroline Miles, a sophomore, said she hadn't met the BCC team last year. "We saw new teams going into the finals … BCC were nice competitors and good rowers," she said.
The women's third varsity eight took second in its final also, with a time of 6:19.72. Oakton had a time of 5:55.30 and Walter Johnson had a time of 6:26.15.
The men's third varsity eight took first in its flight and then won bronze overall, with a time of 5:16.20, topped by boats from Bethesda Chevy Chase and Jefferson. The men's fourth varsity eight also took a bronze medal, with a time of 5:50.44. Two Jefferson boats took first and second, with times of 5:30.40 and 5:47.75, respectively.
T.C. Williams is fielding two novice men's boats this year, a sign of the increasing depth of the overall program. On April 20, the team travels to the Noxontown Regatta at St. Andrew's School. Miles said the TC boats are well-prepared. "I'm not worried about anything," she said with a smile.
The Charlie Butt Regatta will be held April 27 on the Georgetown waterfront.