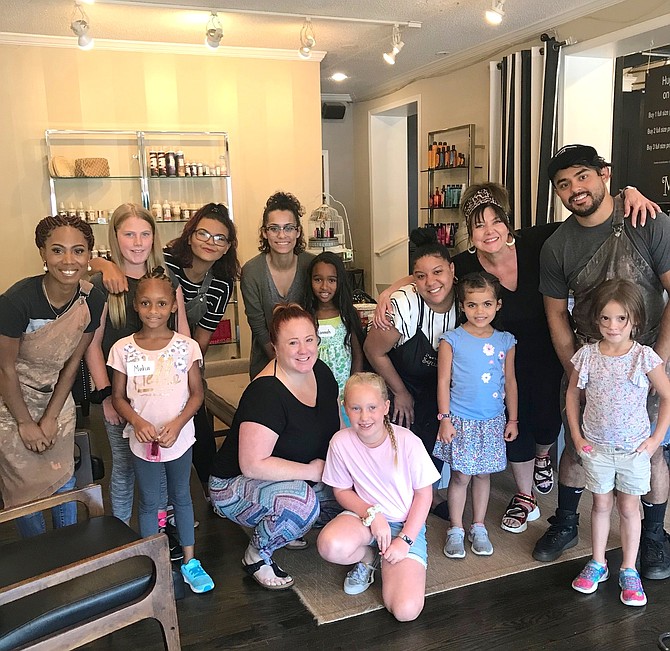 Getting children prepared for the first day of school can be expensive, and with the first day of the Fairfax County Public School 2019-2020 calendar fast approaching, a local Town of Herndon boutique salon welcomed students in for complimentary haircuts and styling. Maude, located in historic downtown Herndon at 775 Station Street, gave free cuts to children from Laurel Learning Center.
According to Melinda Griffith at Maude, on Monday, Aug. 19, six Maude stylists volunteered their time in partnership with Cornerstones Laurel Learning Center and provided complimentary haircuts and styling so children from the center would look "cool for school."
Vanessa Rose, co-owner of Maude, said: "We couldn't think of a better way to celebrate Maude's 16th birthday than giving back to the community we live in."
Courtney Park-Jamborsky, director of Laurel Learning Center, said "It couldn't have been more perfect." She recalled that one young girl said that this was "the best day ever."
Lauren Eaglet Courtney said, "I was scared to get my haircut and didn't want to stay, but now I am so happy I stayed. I love my French braids so much."
Laurel Learning Center provides affordable childcare and accommodates up to 135 children from diverse cultural and socioeconomic backgrounds. According to Cornerstones, the majority of childcare slots at Laurel Learning Center are reserved for working families receiving childcare subsidies from Fairfax County. The center, which provides full-time childcare for infants, toddlers, and preschoolers and before- and after-school care for school-age children through sixth grade, is located at 11484 Washington Plaza West, Suite 200, Reston.