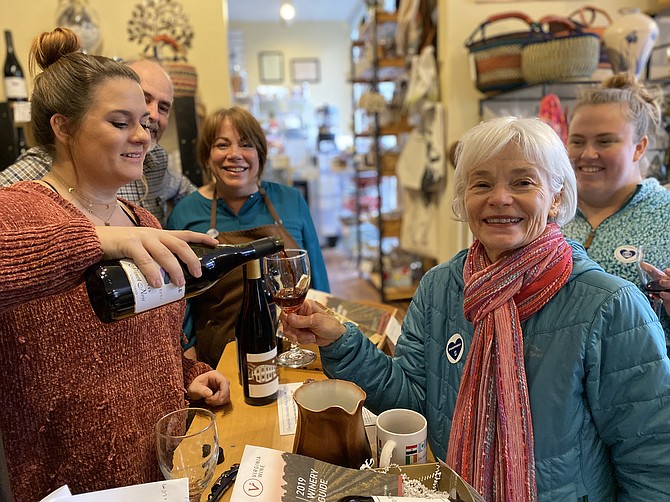 Local small businesses in the Reston-Herndon area celebrated Small Business Saturday on the Saturday after Thanksgiving, Nov. 30. The day is designed to encourage people to Shop Small and bring holiday shopping to small businesses.

Estimated data on businesses with under 100 employees, as reported in the Amex-commissioned 2018 Small Business Economic Impact Study, cited that for every dollar spent at a small business, approximately 67 cents stays in the local community and that helps keep doors open.
Cassie Berman of Herndon is a bartender at Mile 20 connected to The Breeze Restaurant & Sports Bar in Herndon. "It's very important to support local small businesses," she said.
"Because it's the backbone of small town Herndon," said owner Phil Ohme.
ONE BLOCK DOWN Station Street, small business owner Kristy Do considered how to remodel the interior of her newly purchased business. "The shop will be redesigned with new furniture and equipment. We look forward to meeting the community and supporting the local economy. While we are open today, Small Business Saturday and every day, watch for our Opening Banner soon, and we are also looking for additional staff," Do said.
Vanessa Rose, co-owner of Maude, a small business in the Town of Herndon, understands the mutual relationship built between storeowners and others in a community; it is a bond. "For 16 years, Maude's has had the privilege to serve our community. One of the ways we do this is our annual No Mother Left Behind drive, where our team creates 200 beauty bags out of donations from our guests to mothers in need in our community. These bags are distributed by Cornerstones."
AT LAKE ANNE in Reston, Celestina Hernandez and Miguel Aragon Perdemo are the co-owners of Reston's newest small business, Reston Tailoring. According to Perdemo: "We opened in August, and we are in our fifth month. This is our first time opening a tailor shop. One of our tailors studied in Japan, and our other tailor has over 30 years of experience. She studied pattern making in Honduras. We look forward to serving the community. We have a commitment to the community; they can rely on us," Perdemo said.
Brigitte Wazana of Reston came into the shop to pick up some tailoring and said she was making the rounds to the different small businesses on the plaza. "I'm not a big mall person. I grew up in Paris where there were boutiques," Wazana said.
Chesapeake Chocolates is another small business located on Lake Anne. It is an independent, family-owned and operated business. On Small Business Saturday, Owner Doris Tyler offered samplings of wine and chocolates. A steady stream of customers came in and out of the door. She offered Charlotte Craig, 8, of Reston a #ShopSmall sticker. Craig said, "I asked my mom for chocolate, but she said no. But then she said, let's go look."
A few doors down, Rick Thompson, co-owner of the Lake Anne Coffee House, another small business, sat with artist and painter Marthe McGrath in the Reston Art Gallery & Studio."I see a lot of places, but this is my favorite," Thompson said. McGrath said the small privately owned cooperative gallery and studio, itself a small business, has operated at Lake Anne since 1962.