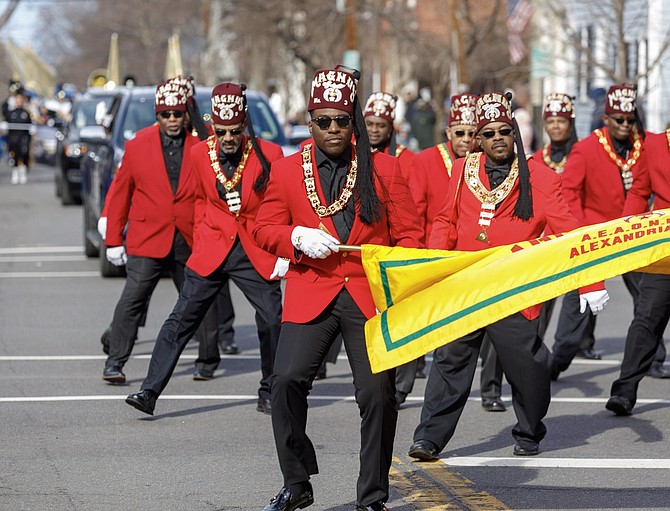 The forecasted dreary skies never materialized, as thousands of attendees turned out Feb. 18 to celebrate the 287th birthday of Alexandria's hometown hero and Founding Father, George Washington.
"It was a great day today," said Joe Shumard, the organizer and driving force behind the parade. "We are proud to be the nation's oldest and largest parade celebrating Washington's birth and this year to recognize the 100th anniversary of the founding of the American Legion."
Participants marched a one-mile route through the streets of Old Town that ended at a reviewing stand in Market Square. Former ACT for Alexandria CEO John Porter and Janet Barnett served as co-emcees and Dan Dellinger, past national president of the American Legion, served as the parade's Grand Marshal.
2019 PARADE AWARDS
Antique Vehicles
1st Place – Hard Times Chili Truck
2nd Place – Caribbean Cruisers Car Club
3rd Place – Rocklands BBQ & Grilling Co.
Carriages
1st Place – Carriages of the Capital
Community or Adult Bands
1st Place – City of Alexandria Pipes and Drums
2nd Place – Frederick Town Fife and Drum
Community & Fraternal Organizations
1st Place – American Legion Post 24 Legionnaires
2nd Place – American Legion Riders (Post 176)
3rd Place – KENA Shriners
Floats
1st Place – DAR, Kate Waller Barrett Chapter
2nd Place – Cub Scout Pack 1076
3rd Place – Adventure Park USA
Historical Units
1st Place – 1st VA Regiment of the Continental Line
2nd Place – Gadsby's Tavern Museum Society
3rd Place – Old Line Liberty Color Guard
Honor Guards & Color Guards
1st Place – Combined Public Safety Honor Guard
2nd Place – Sons of the American Revolution
Military Units & Drill Teams
1st Place – Fishburne Military School
Youth Bands
1st Place – Frederick Town Fife and Drum
2nd Place – Freedom High School "Soul Squad" Marching Eagle Band
3rd Place – Fishburne Military School
Youth Groups
1st Place – Girl Scout Brownie Troop 5442
2nd Place – Girl Scout Troop 60134
3rd Place – Cub Scout Pack 301
"Spirit of Washington"
1st Place – City of Alexandria Pipes & Drums
2nd Place – Alexandria Police Motorcycle Escort
3rd Place – American Legion Post 24
Special Mention (Special Thanks):
Quantico Marine Band
Caribbean Cruisers Car Club
Ourisman Dodge & Alexandria Toyota