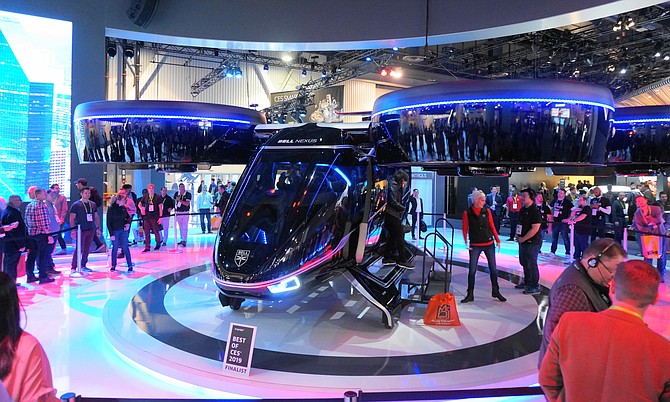 When Amazon announced the selection of Arlington as one of two sites for its new HQ2 campus, it was as much a surprise to the staff of the Arlington Economic Development team as the rest of the world.
"We had no advance notice," said Melissa Hines as she welcomed visitors to AED's booth at CES 2019 in Las Vegas. "But all along, we kept working as if we were still in the running."
Set up in the Smart Cities pavilion at CES, the AED team touted Arlington as a destination for new start-ups under the "Primed for Business" slogan – subtle word play on the Amazon Prime service.
"We're obviously excited to have been chosen," Hines added. "But we feel Arlington is a great choice for businesses of all sizes and we are here to introduce ourselves to companies from around the world."
With more than 4,500 exhibiting companies and exhibit space of more than 2.9 million net square feet, CES 2019 showcased the world's biggest companies in addition to hosting more than 1,200 startups at an area called the Eureka Park Marketplace.
More than 188,000 industry professionals, including more than 63,000 from outside the U.S., convened in Las Vegas to experience the ever-evolving global technology industry.
"[Artificial Intelligence] pervades the show," said Gary Shapiro, CEO of the Arlington-based Consumer Technology Association that runs CES. "Almost every major company is showing AI and applications that are just truly jaw-dropping."
Early show buzz centered around concept vehicles like the Hyundai Elevate, a concept "walking car" that uses articulated legs to navigate off road, and the Bell Nexus, a concept design for a hybrid air taxi, while the battle between the artificial intelligence devices from Amazon and Google heated up.
According to Shapiro, other technology trends to watch this year include Smart Home technology, digital health, Esports and sports technology, and Smart Cities resilience.
"The U.S. is beginning a transformation that will create lucrative business opportunities for many," Shapiro said in his opening remarks. "5G is coming, which will allow a fast data stream and incentivize new services that cross the borders of all tech sectors."
Shapiro noted that 5G, which is expected to become available in late 2019 and early 2020, will be the backbone for the smart city infrastructure that will help cities be more resilient in coping with unforeseen disasters.
"5G will also fuel the connected home, transform digital healthcare and create immersive experiences for global sports fans," he added.
Google Assistant unveiled its new Interpreter Mode, which translates live voices into different languages with a degree of accuracy that surpasses Google Translate. And while Blackberry may be out when it some to smartphone devices, it is leading the way in security and will license its Blackberry Secure technology to smart device manufacturers in a bid to make smart speakers like Google Home and Amazon Echo, more secure.
"It's exciting to see how technology is changing the world," said AED's Cyrena Patillo. "And we believe Arlington is the place to be as these new technologies and companies emerge."