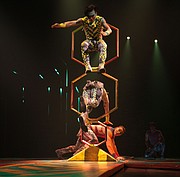 With a theme about freedom to blaze one's own trail in life, Crique du Soleil returns to the area with "Volta," an all new show under the 60-foot Big Top at Tysons II.
"After 35 years of creating circus shows, Cirque du Soleil wanted to explore new territories, and we thought that street sports were a very great element around which we had never worked. Those sports usually come with an attitude: a freedom to do what you want, the way you want. That's why we decided to tell a story about freedom and about self-acceptance," said Steven Ross, Senior Publicist, VOLTA by Cirque du Soleil
"Volta" tells the story of Waz, a game show contestant bound for a journey of extraordinary self-discovery. He seems to have lost touch with himself. What will he find on his journey? "Volta" unites high energy, physical agility, street sports and extreme performances into a visually arresting world; along with Anthony Gonzalez's high-energy musical compositions. The evocative costumes are by Zaldy.
"We want to connect with our audiences" said Danila Bim, a hair suspension artist. "It's magical to fly," said Bim describing her extraordinary "Volta" performance. She is suspended by a hook in the bun of her hair then lifted to a height of 25 feet to perform acrobatics. Bim is held only by the hook through her hair.
Asked how she gets ready to perform her routine, she said, "All my hair together is strong. My performance is not only physical but mental."
Bradley Henderson is a hoops diving artist. He dashes forward on the Cirque stage and then hurls himself through hoops that are placed higher and higher off the floor. "The hoops are stacked together to a height of about 15 feet." said Henderson.
"I have to be very precise when I launch myself to tumble through each hoop. To do that I manipulate my body to complete the routine very accurately," added Henderson.
Both Bim and Henderson described the importance of the audience to them.
"Audience applause, gasps and silences mean so much. It means they are here with us." said Bim. It feels amazing to have the audience respond to what we do."
Henderson added, "We want it to be magical for them. We want them to leave their daily reality."
Cirque du Soleil's "Volta" aims to amaze audiences of all ages with a story about inclusion and "oh-my" feats.
Where and When
Cirque du Soleil presents "Volta" at Tysons II under The Big Top, 8025 Galleria Drive, Tysons. Performances July 25, 2019 to September 29, 2019. Tuesay, Wednesday and Thursday at 7:30 p.m., Fridays at 8 p.m, (Friday, August 30 at 4:30 & 8 p.m.), Saturday at 3:30 p.m. and 7 p.m. and Sunday at 12:30 p.m. and 4 p.m. No performances on Mondays. Tickets start at $49. Special tickets packages such as VIP Experience, Behind The Scenes, Producer Seats and Family Pack are available. For groups of 12 or more there are also special offers. For detailed information visit www.cirquedusoleil.com/volta or call 1-877-924-7783. Note: The show contains flashing lights which may cause difficulties for people with photosensitive epilepsy.