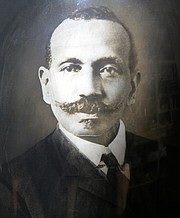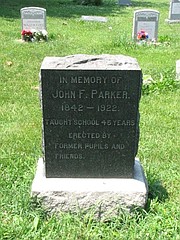 John F. Parker was the second principal of Snowden School for Boys in Alexandria. He became principal in 1875 after the first principal, William F. Powell, resigned his post on Aug. 27, 1875.
Mr. Parker was a man who had beaten the odds of surviving slavery. He also survived an illness during slavery, but it would later take his life.
He was born a slave on William B. Scare's property which covered two counties: Alexandria and Fairfax. Mr. Parker was listed on the 1861 probate file of Mr. Scare as diseased. At the time of William B. Scare's death, the Union Army had taken over Alexandria. Under the Union, John F. Parker and the other slaves in Alexandria were considered contrabands of war. They were free to move about in Alexandria under Union control, but they faced the risk of capture outside the Union occupied areas.
In 1866, he appeared in the Alexandria Freedmen Bureau office contracting himself out to an Arkansas plantation for 8 and a half months as a field hand. On his contract, it stated that he was literate.
On July 25, 1870, it was noted in a newspaper article that John F. Parker had accepted a position as an assistant keeper of the lighthouse at Lower Cedar Point in the Potomac River. By 1872, he had secured a substitute teacher's position at Snowden School for boys in Alexandria. In less than a year, he secured a permanent position in the school system as the assistant principal to William F. Powell.
On the resignation of Principal William F. Powell in August 1875, Mr. Parker was offered the position of principal. The Snowden School needed a principal and a pianist, and he was more than qualified for both positions. He was principal at Snowden School from 1875 until he became ill in 1915 from a disease he had as a young child in slavery.
Mr. Parker was also a devout Catholic, and a member of Saint Mary's Catholic Church in Alexandria. He was one of the people who was instrumental in advocating and raising money for the building fund for Saint Joseph's Catholic Church.
He was born in 1842 to Shadrach and Martha Parker on the property of his owner, William F. Scarce. On July 20, 1875, he married Julia A. Nokes, a widow, who was a freed person prior to the Civil War. They were married by Father D.O. Kane of Saint Mary's Catholic Church. They had one child named, John, who died young. John and Martha acquired several properties in Alexandria. Their houses were at 148 Queen St., 712 Wolfe St., 176 South Fairfax St. and 810 North Columbus St. Mr. Parker's last residence before he received medical treatment in Petersburg, Va. was on Columbus Street.
On Nov. 21, 1922 in Petersburg, Mr. John F. Parker died. He never had an opportunity to teach at Parker-Gray School which was partially named after him. His funeral was at Saint Joseph's Catholic Church and he was buried at Saint Mary's Cemetery. Many of his family members from the Parker, Taylor and Dogan's families and his beloved students mourned his death. His headstone erected by his friends and students is a testimony to his service as a principal and teacher.
He was born a slave but made great progress by becoming a well-respected principal, teacher, landowner and an outstanding citizen. In 1919, his students, family and friends advocated for the School Board to include his name as part of the name for the new school Parker-Gray. It brought great pride to those who supported him.
Char McCargo Bah is a freelance writer, independent historian, genealogist and a Living Legend of Alexandria. Visit her blog at http://www.theotheralexandria.com for more about "The Other Alexandria."