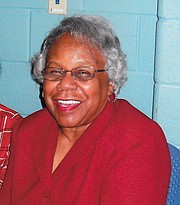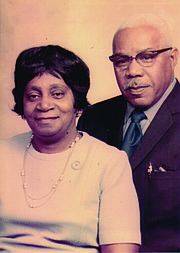 Mrs. Norma Jennings-Turner had the guidance, support and education from two remarkable women who poured their endless love on her. Her mother was Esther Speaks-Jennings and her step-grandmother was Mattie Hackley-Speaks. Those two special ladies left a positive impression on Norma.
Esther's mother, Georgia Lewis-Speaks died on Jan. 8, 1927 when the former was only 19 years old. Her father, Jessie Speaks remarried less than two years later to Mattie Hackley. Soon, Mattie and Esther bonded. Mattie had never been married before, nor did she have any children of her own. When Esther got married to Alexander Jennings, Mattie immediately felt a void in her life when Esther left home. Several months after Esther's marriage, she found out that she was expecting her first child. When Norma was born, her parents were delighted and her grandparents were very excited to see the extension of their family. Months after Norma's birth, her mother found out that another baby was on its way.
Mattie loved children. She always wanted a family of her own but she married beyond her childbearing years. So when Esther was expecting her second child, Mattie asked Esther if little Norma can live with her grandparents. Esther knew Mattie was a loving and caring person that would take good care of her child. Esther agreed to let little Norma stay with Mattie and her father who just lived around the corner at 429 North Patrick St. from where she and her husband lived on Oronoco Street. Mattie was an excellent grandmother, she was very organized and she used time management well in raising Norma. She and Norma could be seen all over Alexandria visiting friends and neighbors.
Church was an important part of Mattie's life; she was a Methodist, and her husband was Baptist. Mattie took Norma to her church, Roberts Chapel Methodist Episcopal Church, now called Roberts Memorial United Methodist Church. Every day, Mattie allowed Norma to visit her parents and siblings. By the time Norma was three years old, her parents had four children, and she now had three siblings. During Norma's home visits, she had the opportunity to hear her mother play the piano. During her younger siblings' childhood, her mother stayed home, but she taught piano lessons to supplement the family's household income.
When Norma was four years old, her grandmother decided it was time for her to have some schooling. Mattie approached two teachers, Mrs. Martha Miller and Mrs. Laura Dorsey, for school books for Norma. She taught Norma reading, math and proper pronunciation of words. Mattie scheduled Norma's lessons everyday using the Jack and Jill books. By the time Norma started school, she was way ahead of her classmates at Parker-Gray. The teachers noticed her strong academic skills and promoted her twice to higher classes. Norma graduated at the age of 15 from Parker-Gray. Due to lack of funds, she attended Virginia State College for one year, then she applied for a job with the United States government where she worked and then retired with 39 years of service.
Norma Jennings-Turner was born on Aug. 5, 1931. She is the oldest child of Alexander and Esther Speaks-Jennings. Her siblings are Doris Jennings-Duncan (deceased), Jesse Alexander Jennings and Julia Jennings Caldwell.
Mrs. Turner gives credit for her successes in life to two women, her mother, Esther who allowed her step-mother to raise her, and to Mattie who loved her unconditionally. Norma excelled in everything she did.
Char McCargo Bah is a published author, freelance writer, independent historian, genealogist and a Living Legend of Alexandria. She maintains two blogs, http://www.theotheralexandria.com and http://www.findingthingsforu.com.