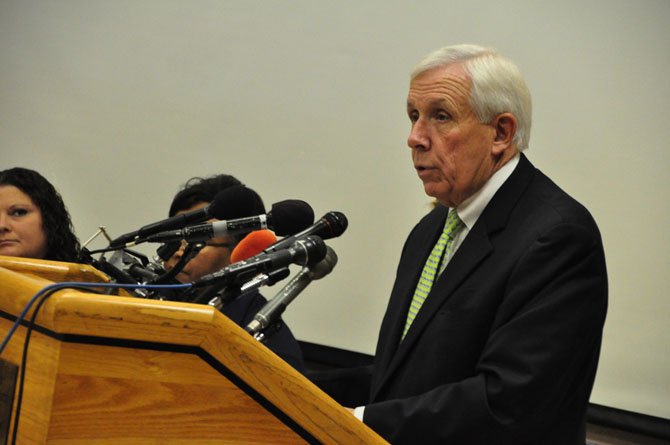 Since its creation in October 2013, the human trafficking unit of the Fairfax County Police Department has received over 70 tips and leads about human trafficking in Northern Virginia.
"Fifty-two percent of those leads involve juvenile sex trafficking cases," said Detective William Woolf, lead investigator of the Fairfax County Police Department's human trafficking unit, at a House Commerce-Justice-Science Appropriations subcommittee on Feb. 26.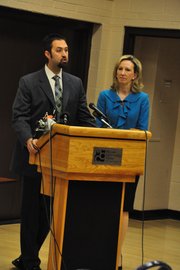 In his testimony, Woolf addressed the need for stricter penalties on those responsible for human trafficking and the ways Fairfax County is addressing trafficking.
"We've taken on a very victim-centered approach. Our number one priority is recovering these young people from these terrible situations. The problem with that is it is extremely resource intensive," Woolf said.
THE HUMAN TRAFFICKING UNIT is taking a three-pronged approach of education and awareness, prevention and intervention to reduce trafficking in Northern Virginia.
"This particular crime is something that affects all communities. It's a crime that does not discriminate on race, ethnicity, gender, socioeconomic class-it's something that has the potential of touching each and every community and each in every state here in the United States," he said.
Woolf said that a nation-wide anti-trafficking awareness campaign is necessary to prevent this crime. Fairfax County recently launched the "Just Ask" Prevention Project, which includes a website and is intended to increase awareness of sex trafficking in the area.
Fairfax County Public Schools recently adopted a sex trafficking awareness curriculum, the first of its kind, for students in grades six through twelfth. Woolf said programs like this are needed throughout the United States to prevent trafficking.
Sex traffickers also use Facebook and Twitter to lure victims in, Woolf said.
Rep. Frank Wolf (R-10), chairman of the subcommittee, said that internet pages such as Backpage.com are used to advertise commercial sex, including in Winchester, Va., which is part of Wolf's district.
"How do the people who own Backpage.com live with themselves? How do they honestly live with themselves?" Wolf said at the hearing.
Wolf, who has been working for several years to combat sex trafficking and raise awareness of this crime, said that as long as Backpage.com continues to operate, trafficking will continue to be an issue.
"I have personally written the Attorney General several times over the last two years urging the department to prosecute Backpage.com and similar sites," Wolf said.
Since 2011, 42 defendants have been prosecuted for trafficking related crimes in Northern Virginia, Detective Woolf said, the Underground Gangster Crips case being one of the more notable cases.
In this case, female adults and juveniles were being trafficked for more than six years in Northern Virginia by Crips gang members. The gang used Facebook and local malls, bus stops and metro stations to recruit young girls. The gang members advertised the girls on the streets, as well as through Backpage.com.
In 2013, an Atlanta man pleaded guilty to trafficking underage girls in Virginia and several other states. According to court documents, the girls were sold for sex at several hotels in the Northern Virginia area, including Homestead Studio Suites in Sterling, Aloft Hotel in Ashburn, and the Holiday Inn Express, Washington Dulles Marriott Suites, and the Hyatt House Hotel, all located in Herndon.
HUMAN TRAFFICKING SURVIVOR and advocate Stephanie Vu testified at the hearing, providing a glimpse into the life of someone who has been sold for sex.
"At the age of 12, I was chosen. I was invited to a party and there I met a handsome older boy who took a lot of interest in me. Although flattered, I never thought I would see him again," Vu said.
However, she did see him again-nearly everywhere she went.
"In my 12-year-old mind, I was convinced this was fate and soon began intentionally meeting him every chance I had," Vu said.
Vu's father was deployed, and her mother worked day and night, leaving Vu responsible for her younger siblings but with little supervision.
"I was free to go on dates with this charming, older boy. I was searching for something in life and he looked like the answer, filling my loneliness and my young heart's desire for love and romance. But I soon learned though that he was a 'wolf in sheep's clothing,' who intended on turning me into a product to be devoured," she said.
For some time, Vu said it seemed her dreams had come true.
"He said he loved me and wanted to marry me; he bought nice things for me and took me out to clubs and places I could never go to without him," Vu said. "However, in just a few months he demanded a return—I was sent to perform in a strip club. I resisted, but he said he was in a financial jam and he needed my help, and so it began. I began skipping school and dancing in the strip clubs."
Vu was soon forced to begin selling herself for sex. Her trafficker threw her out into the streets on a cold night, telling her she could either make money or freeze.
After hours of being in the cold, Vu gave in.
"In desperation, I finally accepted one and climbed into the car. The moment changed my life forever. There were three men that night; at the end of it I couldn't stop vomiting," she said.
Vu continued to be trafficked, and soon faced depression and took drugs and alcohol to deal with the pain. She was arrested one night and sent home after being recognized as a missing child. Although she was sent home, she returned to her trafficker.
After being arrested again and sent to juvenile detention, Vu's probation officer suspected Vu was a victim of trafficking. After returning home, she was brutally raped by her trafficker in front of her home.
"At this point I had finally had enough. At just 15 years old, I was ready to give up on life," Vu said.
Vu was hospitalized after the rape, and was soon sent to Northern Virginia based Youth For Tomorrow, 3,000 miles from her home.
She is now advocate and advisor to Youth for Tomorrow and Shared Hope International, also located in Northern Virginia.
Woolf said that more resident treatment centers are needed across the country, as survivors such as Vu have to travel nearly 3,000 miles to receive the treatment they need.
According to Woolf, judges are often going below the federal sentencing guidelines in trafficking cases.
"They are oftentimes just imposing the mandatory minimums as provided by the statute, when the guidelines suggest much higher penalties for this type of criminal conduct," he said.
There is also a need for federal legislation addressing the demand side, Woolf said.
"There are individuals out there that are purchasing sex from our children, and these individuals need to be punished or we at least need the tools to be able to address that as well, particularly when their actions are affecting interstate commerce," Woolf said.
The Virginia General Assembly has addressed legislation dealing with sex trafficking this session, including HB 235, which has passed both the house and senate. The bill, introduced by Delegate Rob Bell (R-Albemarle), would place convicted sex solicitors on Virginia's online registry of sex offenders.
Those looking for more information and prevention tools for sex trafficking can visit Justaskva.org.