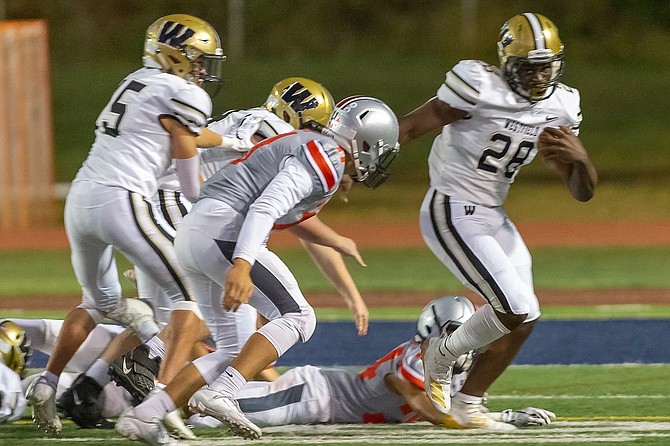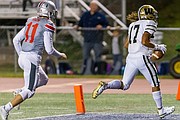 The Westfield Bulldogs (4-0) travelled to Fairfax to take on WT Woodson (3-1) on Oct. 4.
The Bulldogs started early when Mikall Legall rushed in from 2 yards out. A missed extra point left the score at 6-0. Later in the 1st Noah Kim would find wide receiver Avery Howard for an 88-yard TD, adding to the Westfield lead 13-0.
In the 2nd quarter Kim again hit the speedy Howard for a 30-yard TD. The PAT was successful, and Westfield was now 20-0. Isaiah Daniels would run in from a few yards out, PAT was again successful, and the Bulldogs were up 27-0. With 2:01 left until half the Cavaliers would get on the board when Kyle Garvis kicked a 42-yard field goal, the scoreboard now reading 27-3. However, Westfield was not done they would score twice on touchdowns. The first was ET Bushra, who took the ball 85 yards with 1:46 to play in the half, the Bulldogs now up 34-3. Westfield's Eli Soto would score on a short touchdown pass giving them a 40-3 advantage.
Westfield would add two more scores in the 3rd quarter. ET Bushra had another long kickoff return to start the 3rd quarter giving the Bulldogs a 47-3 lead. Then Mikal Legal scored from 3 yards out to cap game scoring at 53-3.
Westfield (5-0) will face Madison (4-2). WT Woodson (3-2) will travel to South County (5-0).