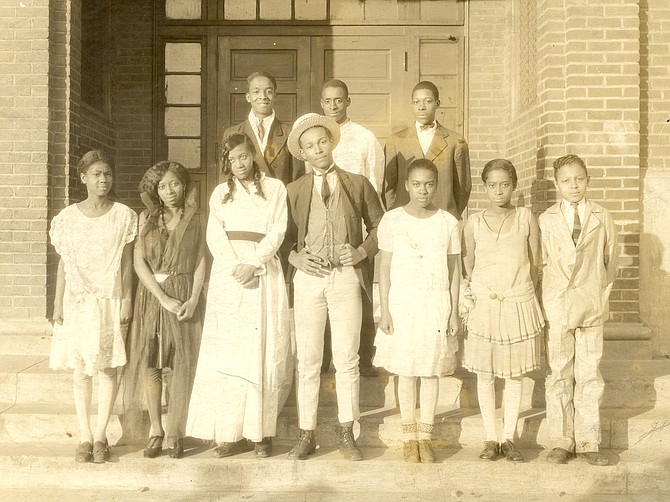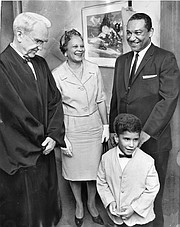 As a young boy living in Alexandria and attending Parker-Gray School, Joseph C. Waddy excelled in all his classes, including public speaking and in acting. These two areas would later enhance his skill as a lawyer and later as a judge for the United States District Courts in the District of Columbia.
Joseph attended Parker-Gray in the 1920s when Henry T. White was Principal. During Joseph's years at Parker-Gray, he became active in the school theatre and in 1927 he performed in a play, "Aaron Slick from Punkin Crick." He also entered the Second Annual Oratorical Contest conducted by the Board of Education of the Improved Benevolent Protective Order of Elks of the World, headquartered in Chicago. The candidates spoke on subjects relating to constitutional rights of the American Negro. He won first prize which was $500 in cash.
At the time he was attending Parker-Gray, the school only went to the seventh grade. His parents, seeing the limitation of education for their children, decided to move to Washington, D.C. With his strong academic background from Parker-Gray School, Joseph excelled in high school in Washington, D.C., graduating from Dunbar High School. He went on to Lincoln University in Pennsylvania, graduating with honors in 1935. He won a scholarship to Howard University Law School, and he graduated at the top of his class in 1938. The following year in 1939, he was admitted into the District of Columbia Bar. Having little to no money, an electrician at the University gave him twenty-five dollars to cover the cost of the bar exam. After passing the bar, he joined a law firm headed by the famous civil rights attorney, Charles Hamilton Houston.
Many of the well-known Civil Rights cases were won my Lawyer Charles H. Houston and his staff lawyer, Joseph C. Waddy, until Joseph was drafted into the Army from 1944 to 1946. After receiving an honorable discharge as a sergeant, he returned to Washington, D.C., where he became a partner in the law firm of Houston, Waddy, Bryant and Gardner. A good number of the firm's major cases involved discrimination in labor and violations of the Fourteenth Amendment to the United States Constitution. They were winning cases after cases, striking down discrimination against railroad workers, teachers, students and a host of underprivileged victims.
In 1962, Joseph was appointed Judge to the municipal court for the District of Columbia, known today as the Superior Court, domestic relations bench. He held this position until he was appointed by President Lyndon B. Johnson in 1967. During his tenure as a Judge, he had a series of rulings aimed at improving education in the District's public school system and his rulings on civil rights. As a Judge, he was known for two major rulings, the education of the District's Handicapped Children Act, and his rulings on policy handling of mass police arrests which was overturned in the 1970s.
Judge Waddy was born on May 26, 1911 in Louisa County, Virginia. His family moved to Alexandria, Virginia when he was seven years old. He was married to Elizabeth H. Hardy and they had one son, Joseph C. Waddy, Jr. The Judge retired on July 31, 1978, and died the next day on Aug. 1.
Parker-Gray School prepared Joseph C. Waddy for success. He was an excellent student, an actor in a school play and a debater of the United States Constitution. His hard work prepared him to be a Judge and Parker-Gray helped him to get there.
Char McCargo Bah is a published author, freelance writer, independent historian, genealogist and a Living Legend of Alexandria. She maintains two blogs, http://www.theotheralexandria.com and http://www.findingthingsforu.com.