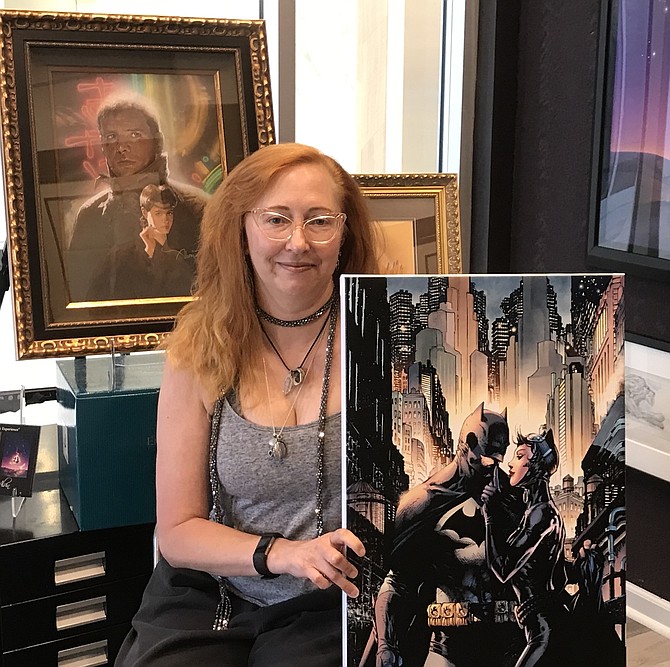 Leslie Combemale of Reston produced the Comic-Con panel, Women Rocking Hollywood 2019: Women-powered Projects and the Push Towards Parity at the San Diego Comic-Con International 2019 (Comic-Con) this summer. For Combemale, who is a member of the Alliance of Women Film Journalists, the Washington Area Film Critics Association and co-owner/operator of ArtInsights Gallery of Film and Contemporary Art in Reston Town Center, 2019 was the fourth consecutive year her panel was part of the world-famous pop culture convention.

COMBEMALE said while there have been positive developments in narrowing Hollywood's gender gap for women, such as Tessa Thompson's 4 percent Challenge in January 2019, which encouraged filmmakers to commit to working with women directors, especially women of color, within 18 months, more needed to be done.
"My aim with the panel was to help push toward parity and reaffirm that women behind the camera and in the crew can work on any project and have the talent and interest to do so," she said.
According to Combemale, each year, thousands of panels are pitched to Comic-Con, but only a fraction accepted. "I'm the first person to dedicate a panel to female filmmakers who otherwise would not be in attendance," she said.
Combemale explained the work involved as she created and prepared to moderate a powerhouse panel of eight renowned female directors, writers and producers. "As creator and moderator, I curate the panelists. I always build a diversified panel, inclusive of LGBTQ+ and women of color of course, (and) I over-prepare. I interview the panelists before the event and base my questions on what I learned from them. I highlight aspects of their new projects which they don't realize are as cool as they are… It takes months and months to put together the panel," she said.
Combemale created Women Rocking Hollywood, she said, to amplify the projects and perspectives of female filmmakers working in the industry. "I want people to figure out why these women are worthy and ready for the best projects in Hollywood, not the scraps. Often these women are creating their own content," she said.

Combemale mentioned two panelists as examples, writer/producer Angela Robinson and Gloria Caldron Kellett. "Robinson is writing and directing a project based on the NY Times bestseller, Lock Every Door; she bought the rights for it. Kellett is the writer/director and producer of the show One Day at a Time. They cannot wait around for the men of Hollywood to give them the best projects," she said. Combemale spoke highly of her panelists, describing them as "very positive" and not complaining. "Instead, panelists take daily challenges as they come," she said.
Audience members, both crowd-based fans and aspiring filmmakers, found inspiration and were moved to support the women according to Combemale. "As they should," she added. "Some people have no idea how few women are getting hired and how important it is to support those who are doing quality work in the industry. They have to follow these women on Twitter; support their projects by watching their shows, seeing their movies the opening weekend, and telling friends about their projects…We need collaborators in the fandom," said Combemale.
SAN DIEGO COMIC-CON drew 135,000 attendees from 80 countries according to visitsandiego.com. Combemale shared that Comic-Con retweeted a tweet of hers about the panel. Her tweet read: "Did Comic-Con just retweet about our Women Rocking Hollywood panel to over a million followers? Yes. Yes, they did. (OMG)!"
Panelists
Panelists for Women Rocking Hollywood 2019: Women-powered Projects and the Push Towards Parity at the San Diego Comic-Con 2019 (Comic-Con) were Alison Emilio (director of ReFrame), Liesl Tommy (director: The Walking Dead, Respect), Cheryl Dunye (producing director: Queen Sugar, director: David Makes Man), Jen McGowan (director: Rust Creek, founder: Glass Elevator), Gloria Calderón Kellett (executive story editor: How I Met Your Mother, co-creator/writer/director: One Day at a Time), Catherine Hardwicke (director: Twilight, Don't Look Deeper), C Fitz (director: Jewel's Catch One, Queen Sugar), and Angela Robinson (writer/director/producer: True Blood, writer/director: Professor Marston