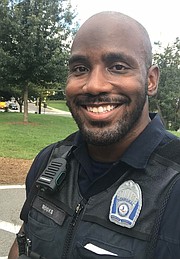 Detective Dorian Brooks moves from his traditional job as a school resource officer on the playground at McKinley Elementary School to the video room at The Arlington County Police Department (ACPD). He is reading one of his favorite books on Pages with Police, a virtual read aloud sponsored by ACPD on Monday, Wednesday and Friday at 2 p.m.
Brooks says he misses his kids at Swanson Middle School, Barrett Elementary and McKinley Elementary School where he serves as the school resource officer.
"I miss the daily interactions, playing games during recess, cards during lunch, trivia fun questions. I hand out candy. Every kid likes candy."
Brooks says he has chosen, "But It's Not My Fault" by Julia Brooks. "It's about taking responsibility for your actions and accountability."
He opens the book. "My name is Norman David Edwards. They call me Noodle. Sometimes things happen to me but they're not my fault."
Noodle doesn't get his homework done, accidentally bumps into a classmate, can't stop talking and can't get his report done because he didn't return his library book, all not his fault.
Noodle's teacher points out it is not whose "fault" but whose "responsibility" and that he is in charge of his legs, arms, hands and tongue. She says mistakes can be good because they give you a chance to learn.
Brooks says he likes this book because it has a lot of important messages, like if you take responsibility for your actions and make mistakes, you can learn and improve.

So far the first two days have had 3,700 views. Next week, Pages with the Police will continue on Monday, Wednesday and Friday on the ACPD Facebook page.