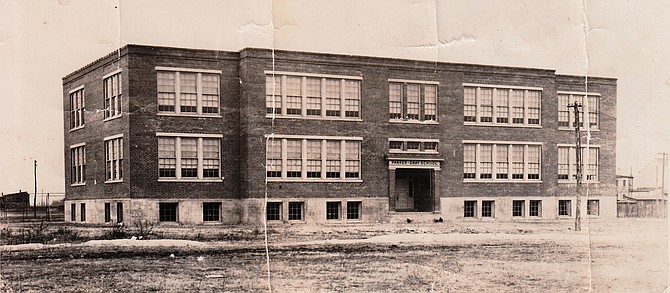 Parker-Gray High School celebrates their 100th Anniversary this year. Students who attended Parker-Gray fondly remember the unique school they attended during segregation. These former students are still proud of their principal and teachers for making the school a great institution. In spite of segregation, many of the Parker-Gray graduates found good paying jobs, advanced their education, or were the first to graduate in their family, and the first to have jobs that were not domestic. Those former students wanted to continue the legacy that the staff at Parker-Gray left them.
In 1975, members of the graduating classes of 1954 and 1955 were holding separate reunion meetings at the Departmental Club when they decided to come together as one for a school-wide reunion. As a result, the Alumni Association of Parker-Gray School was founded. Their first elected president was James E. Henson, Esq.
In 1976, the former teachers and alumni of Parker-Gray had their first reunion. The vision of those early participants was to preserve the memory of Parker-Gray by establishing a scholarship for the descendants of the alumni so the school's legacy will live on.
More than forty-years later, the Parker-Gray Alumni continues to award young people scholarships. The current elected president is Catherine Ward and the Scholarship Chair is Lovell Lee. Three students have been selected for this year's scholarships.
On Dec. 20, 2020, the recipients will receive the Parker-Gray Alumni Scholarship award and they are:
Aalyhdaezey J. Golden is the granddaughter of Patricia Golden-Roy; she graduated from Justin High School in Fairfax, Virginia and she attends Northern Virginia Community College, Alexandria, Va.
Kiyah Stewart is the granddaughter of Minister and Mrs. Alfonzo Terrell. She graduated from Woodbridge High School and she attends Shenandoah University, Winchester, Va.
Christina Thompson is the granddaughter of Dino and Jackie T. Sawyer. She graduated from Woodbridge High School and she attends Virginia Commonwealth University in Richmond, Va.
Congratulations to the Parker-Gray Alumni's awardees!
Char McCargo Bah is a published author, freelance writer, columnist, independent historian, genealogist and a Living Legend of Alexandria. She maintains two blogs, https://theotheralexandria.com/ and https://findingthingsforu.com/.