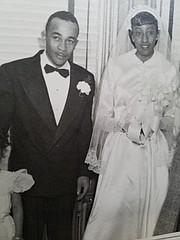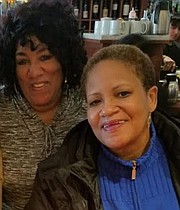 Every Valentine's Day, Karen Hubbard Suggs and her sister, Faye A. Hubbard, would take a moment to remember their parents' wedding day.
The weather on Feb. 14, 1953 was in the mid-thirties and the sky was cloudy when 27-year-old Alice Virginia Brown walked down the aisle to marry 32-year-old Charlie Louis Hubbard. For Alice, she could only see sunshine. She got married at Roberts Chapel Methodist Church where several generations of her family had been members. Alice planned her wedding day down to every detail. A skilled seamstress, she made her wedding dress, and dresses for the maid of honor, the bridesmaids and her mother. Her maid of honor was Betty Mae Simms and Alice had five bridesmaids. Her fiancé, Charlie Louis Hubbard's best man, was Alice's brother, Theodore R. Dudley. Charlie had six groom ushers. The Minister, Christopher A. Scott performed the wedding ceremony.

Alice was born in Alexandria, Va. on April 9, 1925. She attended Parker-Gray School but received her high school diploma from Armstrong High School in Washington, D.C. After graduating from high school, she attended and graduated from Cortez-Peters Business School. Charlie met Alice when he moved to Alexandria to live with his brother and sister-in-law. The Hubbards lived next door to Alice and her parents. Both of these families lived in the 500 block of North Alfred Street, next to the Bracy's Flower shop and Russell Temple Church.
Charlie was born in Gladys, Va. He attended public schools in Campbell County, Va. After he served in the Army during World War II, he attended St. Paul's College in Lawrenceville, Va., where he majored in math and history, and later, he moved to Alexandria. He met Alice, an intelligent, attractive and talented seamstress who had graduated from Cortez Business School. They got married.
After their marriage, they stayed with Alice's parents, James and Sarah Massie who had moved to 424 Wolfe Street. While living at Wolfe Street, Charlie worked at Newton Asphalt Company, Alice worked as an agent for Richmond Beneficial Life Insurance, and then for the Alexandria Housing Authority. They had two daughters while living at Wolfe Street, Faye Alice Hubbard, who was born in 1957, and Karen Yvonne Hubbard, in 1958. In the 1960s, Charlie, Alice and the girls moved to 1127 Colonial Avenue.
In 1974, tragedy hit the Hubbard family. Alice was hospitalized at the Freedmen Hospital in Washington, D.C., where she died at the age of 49 from an illness, one year before her two daughters graduated from T.C. Williams High School. The family continued life without the mom. In 1985, Charlie's health started failing him. He died on June 16, 1985 at the age of 64. Faye and Karen took their father back home to Gladys, Va., where he was buried.
Faye and Karen have a lasting memory of their parents – Valentine Day – in 1953 when Charlie and Alice got married on a cloudy cold day that they saw as sunshine and happiness. They are no longer here, but their daughters will always remember Valentine Day as a special day in their lives.
Char McCargo Bah is a published author, freelance writer, independent historian, genealogist and a Living Legend of Alexandria. She maintains two blogs, https://theotheralexandria.com/ and https://findingthingsforu.com/.