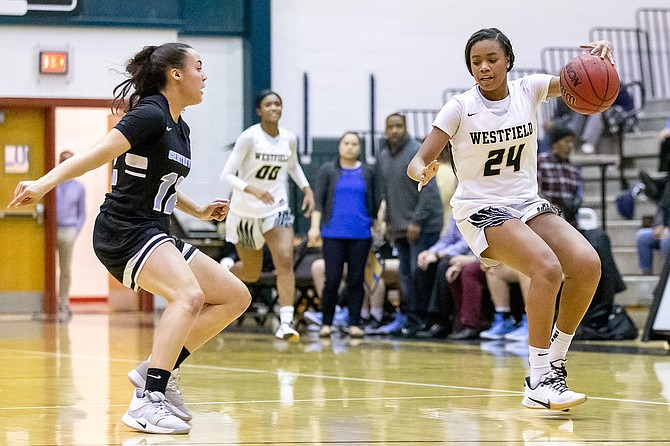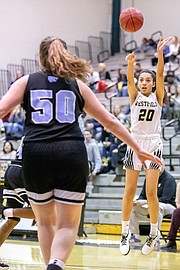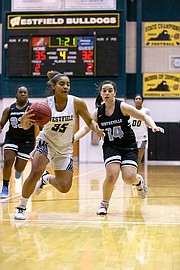 The Westfield girls played the Centreville Wildcats on Feb. 14, the winner to take on the Madison Warhawks in the second round of the Concorde District Tournament.
The opening quarter, Gabby Reed scored 4 of her team high 14 points. Ryleigh Thurston scored 4 for Centreville. Westfield leading 6-5.
The second quarter Westfield would again outscore Centreville 14-12 to take a 20-17 halftime advantage. The Bulldogs led by Gabby Reed's 4 points while teammates Victoria D' Ercole and Bella Bruce each added 3. Centreville was led by Ryleigh Thurston's 6 points and Kaya Squirewell's 3.
In the third quarter the Wildcats would outscore the Bulldogs 15-12 to tie the game up at 37 heading into the fourth quarter.
The fourth quarter saw a balanced scoring for Westfield. Gabby Reed, Victoria D'Ercole and Brooke Reed each scored 4 points, while Bella Bruce added her third three of the game. Centreville had 5 players score 2 points while being led by Jada Squirewell with 3 points.
With the 47-43 win, Westfield will take on undefeated Madison in the second round. Westfield was led by Gabby Reed with 14 points, Victoria D'Ercoles 9, Bella Bruce 9, and Broooke Reed with 8. Centreville's season ends with the loss. Kayla Squirewell scored 19 points, and Ryleigh Thurston 10.