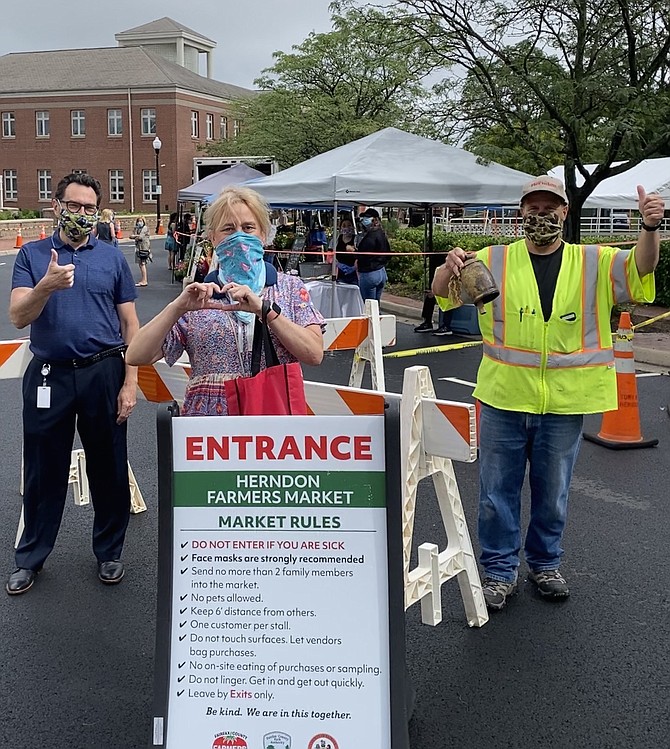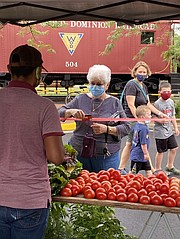 The 2020 Herndon Farmers Market, operated under Fairfax County Park Authority, opened for the season later than normal, not on the usual third Thursday in April, but on June 18. Markets throughout the County are starting on a phased basis due to COVID-19 and as health conditions and resources allow.
Some things never change, though. The producer-only market sold fresh fruits, vegetables, baked goods, specialty items and more offered by its ten vendors. Farmers and producers may only sell what they raise on their farms or make from scratch. Market Manager John Dudzinsky opened the season, clanging his big cowbell. It remained his reminder to the public of the now long gone dairy farms around Herndon. Steps from where Dudzinsky stood, the farmers shipped their milk on the railroad daily to Washington, D.C. for processing and distribution.
The first Farmers Market of the season enticed Jessica Banikiotes and her children. "It's something we can do," she said. Greg Drost of Herndon brought his sons, Sawyer, 7, and Emmett, 9. "I want peaches," said Sawyer. For Emmett, it was salsa. "I like salsa with tortilla chips," he said.
Nearby, Town staff Adam Walsh and Kimmie Alcorn, Herndon Department of Parks and Recreation controlled market access to comply with capacity restrictions, 2020 Market Guidelines infographic. To give everyone the best shopping experience as possible, Market Manager John Dudzinsky said shoppers were being asked to abide by the one-way path through the market and maintain 6 feet of distance from others.
In the market, bright red safety tape wrapped around vendor booths, prompting shoppers not to handle the produce, fruits and vegetables but instead allow vendors to select, bag and give them to shoppers. All vendors took credit cards. The County encouraged shoppers to preorder their items directly from the local vendors. Go to the Farmers Markets website and click on the Vendor Preorder List for a list of all market vendors and their ordering policies.
Tate Rusby of Arlington operated one of the new vendor booths of family-owned and operated Family of Nuts in Chantilly. According to Rusby, the company was noted for its premium dry roast process free of preservatives and oils. The booth offered raisins and apricots as well.
Long time vendor Grace O. Banahene, owner of Grace's Pastries in Herndon, brought her baked goods and savory treats to the market as she had been doing for 31 years. "It's been a long wait, and I missed the market," she said, referencing the late opening. "God made a way for us to come back."