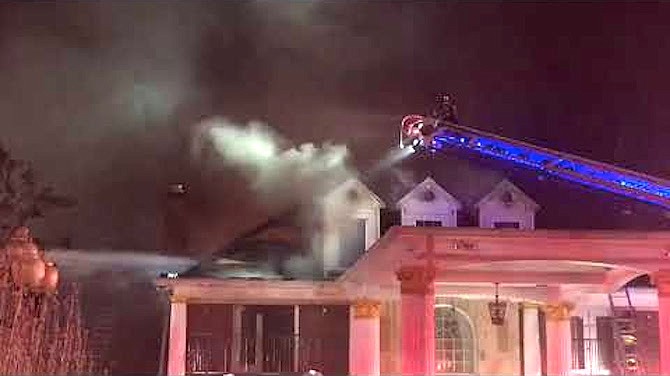 On Monday, March 2, at approximately 5:51 p.m., units from Fairfax County Fire and Rescue Department and Arlington County Fire Department were dispatched for a reported house fire in the 800 block of Dolley Madison Boulevard in the McLean area of Fairfax County.
Units arrived on the scene of a large two and a half story, single-family home with smoke showing. Crews located fire between the first and second floor that was extending upward. A second alarm was requested which included two units from Montgomery County Fire and Rescue. Firefighters continued with an interior fire attack but were faced with numerous remodeled areas in home with void and inaccessible spaces. Fire continued up into the attic and began to extend through the roof. A third alarm was requested. Units evacuated the home and master streams and hand lines were used to continue extinguishment from outside. One civilian was transported to a hospital for evaluation. No firefighter injuries were reported.
Seven occupants were home at the time of the fire. The fire was discovered when one of the occupants heard a loud noise described as crackling. She then saw smoke coming from the light switch and outlets on the top floor. Smoke alarms sounded after the fire was discovered. Another occupant noted fire in the basement and attempted to extinguish it unsuccessfully. All occupants self-evacuated prior to fire department arrival.
Fire Investigators determined that the fire was accidental in nature and started in the basement. The fire was caused by an electrical event with the wiring to the air handler. This then spread to ordinary combustibles in close proximity.
Seven occupants were displaced because of the fire. Red Cross assistance was requested and later declined. Damages as a result of the fire are approximately $3,523,850.