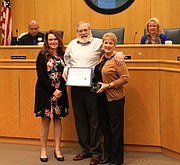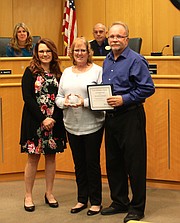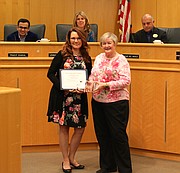 Neighbors helping neighbors is what Herndon is all about, according to Mayor Lisa C. Merkel. On Tuesday, March 10, she had the privilege to present two couples and an individual the esteemed "Good Neighbor Award." It recognizes selfless contribution and commitment to neighbors by neighbors in the town. Mayor Merkel presented certificates and crystal awards to David and Sherée Cole, Christian (Christie) White, and Bill and Norma Huntington during the Herndon Town Council Public Hearing.
According to Barbara Correira, she nominated David and Sherée Cole because they are amazing neighbors. "They are always offering a hand to help others with everything from mowing, snow blowing (and) collecting mail for out-of-town neighbors," said Correira. "Last spring, our bathroom door knob broke while I was in there, and I could not get out. I had four small children at home and was locked in the bathroom. I sent my seven-year-old down the street to the Coles' house, and within three minutes, David was at our house with a toolbox and had me out in no time."
Nominator Linda Esposito noted Christian (Christie) White for her willingness to make herself available to anyone who needs her help, even in the middle of the night. "She has looked after the two... neighbors across from her apartment, (one has recently passed), both day and night for whatever needs they had... She has gone to extremes to bring the community at Herndon Harbor House together and strives to bring happiness and joy to everyone, especially those who are alone in this world," said Esposito.

According to the nominator Robyn Magee, her neighbors Bill and Norma Huntington are very conscientious of the needs of others, especially their elderly neighbors. Magee said that Van and June Harrison, who lived well into their 90s, resided next door to the Huntingtons. "Bill would assist them whenever he could, mowing their lawn, taking out their trash, shoveling their driveway, etc. In later years, oftentimes, an ambulance was called to Van and June's home, and Norma would be the first to greet them...Bill and Norma did everything they could to help Van and June to the very end," said Magee.
"In Herndon, we take care of each other, and the council is happy to celebrate these neighbors," said Mayor Merkel.