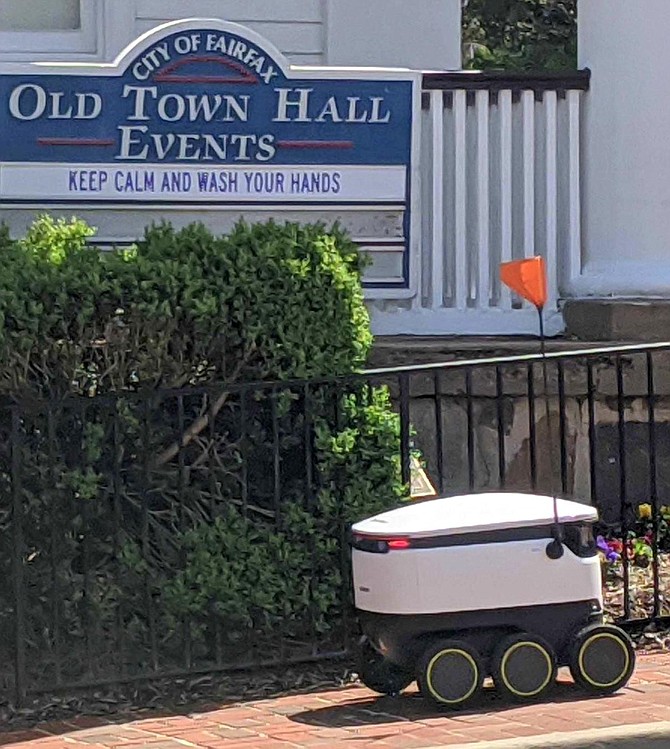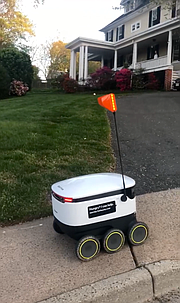 There's a robot invasion in downtown Fairfax! Well, no, not really; but friendly robots delivering delicious meals to City residents have definitely become part of the local scene.
They're the Fairfax City Starship Robots, and they're doing their best to keep the City's businesses and customers connected. And it's all possible because of a partnership between Fairfax and Starship Technology, a robot delivery-system.
City residents just have to download the app at https://starshipdeliveries.com/fairfaxcity/ It's a free app and is available for use on Apple and Android devices.
"We know our businesses are struggling during COVID-19," said Fairfax Economic Development Director Chris Bruno. "And, while not a solution to every challenge, we hope that this partnership will provide just one more tool to help support our City's businesses."
The City's Economic Development Authority officially launched the delivery program on April 17, and since then, it's proved to be a big hit with Old Town restaurants and local residents alike. On any given day, the square, squat, covered containers may be seen zipping throughout the City, en route to their particular destinations.
Starship has a fleet of 20, white robots on six black wheels that are autonomous and travel easily through the City on demand. Each day, from 9 a.m.-10 p.m., they'll bring food and other essential items, including groceries, to customers living in a one-mile radius from Old Town. The boundaries are: Roberts Road to the east, Chestnut Street to the west, GMU to the south and Fairfax Boulevard to the north.
Customers order meals from Old Town restaurants – including Coyote Grille, Hamrock's, Havabite Eatery, High Side, UBar and The Wine House – or groceries from stores such as Safeway, and then wait for the robot to arrive at their door. They'll receive an order confirmation and estimated arrival time and can then track the robot during its journey. The order is locked inside the robot until it reaches its destination – where it may only be unlocked and retrieved via the app by the person who placed the order.
The robots first became popular in this area last year, when they began delivering food from restaurants on the GMU campus to students in their dorms. And now, they've expanded into the City.
Still, that's not the only way to obtain a meal in Fairfax during the pandemic. While local Fairfax restaurants are currently closed for inside dining, nearly all of them are offering curbside pickup and delivery options. Go to their Websites for information or look for the big, blue-and-white, "Grab-and-Go" banners outside their buildings.