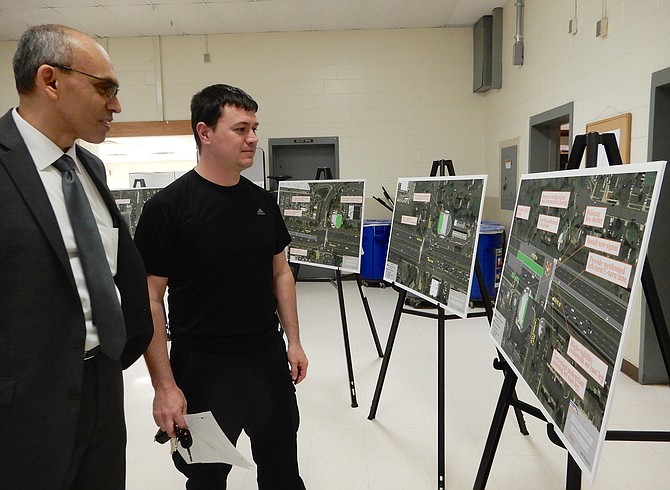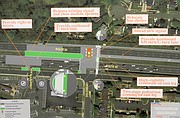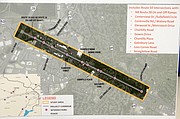 Under normal traffic conditions, the two-mile segment of Route 50 between Route 28 and Stringfellow Road in Chantilly is clogged during the morning and evening rush. It also averages 71,000 vehicles a day and has a high number of crashes.
So VDOT's doing a STARS (Strategically Targeted Affordable Roadway Solutions) study to assess how to make this stretch of road function better and safer. And before the pandemic started, it held a public-information meeting about it at Brookfield Elementary.
VDOT engineer Andy Beacher said STARS is used to develop low-cost solutions to traffic problems. Toward that end, he said, "We studied all the intersections on Route 50 between Stringfellow and Route 28 and are making recommendations. However, there's no magic bullet for this corridor. It's very congested because of all the commercial development and commuters."
"This is a busy corridor, and we collected data on seven signalized intersections," added lead project consultant Ravi Raut. "There are three bus lines traveling there; and between 2012 and 2017, there were 586 crashes. They were either sideswipe or rear-end crashes, and most happened at the intersections."
He said they examined both short-term solutions that would help immediately, plus mid-term solutions that would provide relief into 2030. Potential short-term options include: Adding reflective, traffic-signal backplates making the signals easier to see; upgrading pedestrian ramps to ADA standards; and adding pedestrian signals in the median, making two-stage crossings for people walking across Route 50.
ALSO BEING CONSIDERED are: Adding a Galesbury Lane and Lees Corner Road sidewalk connection; moving the Chantilly Plaza traffic signal to Galesbury; installing eastbound and westbound, left-turn lanes at Route 50/Galesbury; replacing and adding pavement and crosswalk markings; providing additional signage; continuing to time the traffic signals; and converting bus stops to bus shelters.
"The problems we're having at Chantilly Plaza will be moved one block over to Galesbury – and there's no way to fix it."
—Lucian Acuff of Chantilly
But some residents said rerouting left turns to Galesbury would send more vehicles into the Brookfield neighborhood. One man said, "A traffic signal there will funnel people straight through the community."
Agreeing, a woman said, "We've got 18-wheelers with pipes and fuel on Route 50, and this will only create more congestion. We need to direct this traffic in a different way." However, Beacher replied that, with the addition of the new I-66 HOT lanes, some truck traffic now on Route 50 is expected to return to I-66.
Raut also noted that, overall, "There'll be more travel time for people on eastbound Route 50 and a travel-time savings for westbound drivers."
Potential mid-term improvement options include: Reconfiguring and modifying intersections, managing access to properties along the corridor and doing innovative intersection improvements. The study should be completed by this summer.
"The estimated cost range for these improvements is $8 million to $11 million," said Beacher. "We currently have no funding, but we hope to get some through the Smart Scale program."
Lucian Acuff, of Chantilly's Waverly Crossing community, had concerns about moving the Chantilly Plaza traffic signal to Galesbury Lane. "The problems we're having at Chantilly Plaza will be moved one block over to Galesbury – and there's no way to fix it," he said.
"Leaving Chantilly Plaza to go onto Route 50, people on the service road cut in front of you," continued Acuff. "But you can't do anything about it because of the 'Do not block intersection' sign. This issue will just go to Galesbury when the signal goes in, and then more traffic will go down Galesbury [which is in a residential area]."
BROOKFIELD RESIDENT Elnora Wright worried about drivers speeding on the service road there and potentially crashing into other vehicles. "Now, people can get onto the service road at Galesbury," she told Beacher. "How will you prevent a number of accidents at the service road, where people just want to drive fast?" Beacher replied that VDOT would "take a fresh look at that."