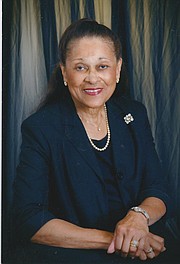 Mrs. Joyce Casey Sanchez is an 87-year-old who lives in the Seminary area of Alexandria, Va. A third generation Alexandrian, she grew up in a close-knit community in Seminary where neighbors cared for one another. It was a time when neighbors would discipline the children in the community when the youth stepped out of line. The parents of those children did not question the authority of community members as surrogate parents. Joyce and her three siblings grew up under the watchful eyes of their mother, grandfather and relatives. Her elders were determined that she and her siblings would stay on the right track. With the support of her family, Joyce excelled in high school and in college.
She received her Masters in Education from American University and a Bachelor of Science in Chemistry from West Virginia State College. She graduated with honors from Parker-Gray High School in 1950. After earning her degrees, she continued her studies at several universities and colleges to enhance her knowledge in her chosen career. She travelled to Japan, China and other countries to observe their educational system.
With the support of her husband, Raymond, she worked most of her life as a special needs teacher and a special education administrator. She became a community leader through her memberships with the United Way (formerly known as Community Chest), Alexandria Branch of the NAACP and a Girl Scout leader and camper for Troop 235. In those organizations, she led and initiated the Annie B. Rose Educational Scholarship that awarded $1,000 to graduating seniors at T.C. Williams. She used her membership in the Women of the Y to help the youth. She was selected to serve on a task force that conducted a study on the Juvenile Justice System in Alexandria. The task force made recommendations on how to improve the Juvenile Justice System.

As a charter member of the Alexandria Mount Vernon Chapter of Jack and Jill, Inc., she was successful in helping African American children in their academic and cultural growth.
Though she worked full time, and did community services, she was also a mother of five children.
Her husband was a career military man, who spent 20 years on active duty and 4 years in the reserves. While stationed at different places with her husband, she gave birth to five children in five different places. Her first child was born in Virginia, second child was born in France, the third child was born in Illinois, the fourth one was born in New Mexico and the last one was born in Texas.
Prior to becoming a widow, she was a volunteer with Fort Ward Descendants' Committee. That group worked with the City of Alexandria to interpret the history of Fort Ward. The group put up historical signs that revealed the African American contributions to Fort Ward and the Seminary area.
Mrs. Sanchez is currently working on a brief historical sketch of the families she grew up with in the Fort Ward and Seminary area, so their stories and history will be available for future generations.
Mrs. Joyce Casey Sanchez had an exciting career and life. She spent her entire adult life giving the youth the same opportunities that she had growing up in the Seminary area. She is still making a difference.
Char McCargo Bah is a published author, freelance writer, independent historian, genealogist and a Living Legend of Alexandria. She maintains two blogs, https://theotheralexandria.com/ and https://findingthingsforu.com/.