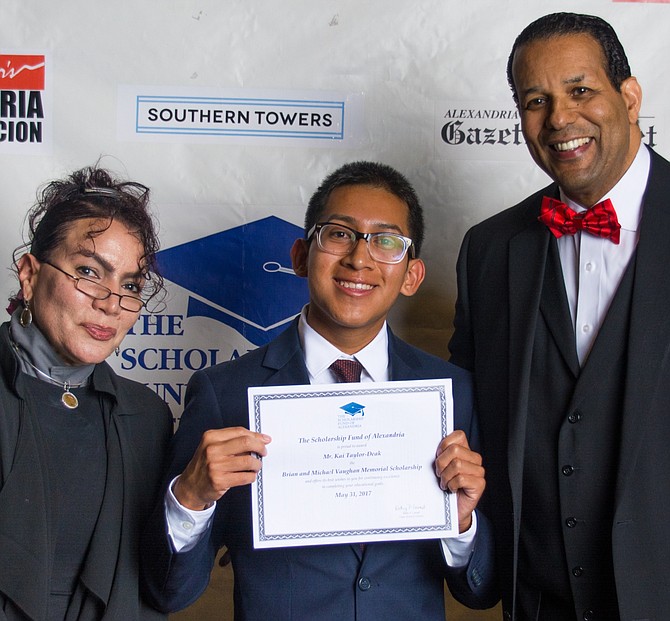 There is a common saying that a woman is always behind a successful man. Dr. Michael D. Casey is one of those men who attributes his success to six women. They saw his potential early on before he himself realized it.
Michael Casey grew up in the Seminary Community at 1600 West Braddock Road. His family owned one of the most beautiful houses in their neighborhood. As a child, Michael was an adventurous boy. He remembered his initiation in the Mudtown Seminary community by going through an underground tunnel from Oakland Baptist Church to where T.C. Williams stands today.
He grew up during the time of the Civil Rights Movement's greatest achievements. He participated in the desegregation of schools by being one of the first students to integrate Minnie Howard Elementary School. After that integration, his parents moved in 1963 from the big house on West Braddock Road to an air-conditioned house at 623 South Fayette Street.
While Michael was at T.C. Williams High School, he played basketball and became a member of the Northern Virginia AAA Regional District team. Before his high school graduation in 1971, Michael's mother Addie had two "gifts" for him. She told her son that he will graduate from high school, and that he will leave home to go to college. His mother was the first woman in his life to motivate him.
He attended the University of Maryland, Eastern Shore (UMES) and graduated with a Bachelor's degree in Business Administration. While he was at UMES, he was part of the basketball team that won the Mid-Eastern Atlantic Conference Championship. As a result, he played in the National Invitational Tournament (NIT) in New York City where his team led the scoring, and made their team the first Historically Black College to be listed in the top 20 Associated Press poll. In 1975, Michael played professional basketball in the South American League in Venezuela.
The second woman to encourage Michael Casey was his cousin, Joyce Casey Sanchez. She advised him to pursue a higher degree and to consider getting a degree in education to give back to his community. With the support of his wife, Darlene, who became the third women in Michael's life also encouraged and supported him.
He received his Master of Science degree in Special Education. With continued support and encouragement from his wife and cousin, Michael entered Nova Southeastern University and received his Doctorate degree of Education Administration and Supervision in 2007. The support and encouragement did not stop after he had his doctorate.
Three other women will play a crucial role in his career: Beth Lovain, Executive Director, Scholarship Fund of Alexandria; Priscilla Goodwin, Chair, Board of Scholarship Fund of Alexandria; and, Kennetra Wood, Executive Director, Equity and Alternative Programs. These six women made a profound impact on Michael.
Today, Dr. Casey is the Lead Teacher/Administrator of the Alexandria City Public School Sheltercare Home School Educational Program in Alexandria, Va.
Dr. Michael D. Casey was born in 1952 to George H. Casey and Addie Bell Casey. Michael is one of seven children. His siblings are Sandra, George H. Jr, Clyde, Pamela, Beverly and Charles. Michael is married to Darlene and they have three children.
Six women saw Michael's potential and they became actively involved in his life by giving him advice, support and encouragement. For Women's History month, Dr. Michael Casey recognizes these women for the many contributions they made in his career.
Char McCargo Bah is a published author, freelance writer, independent historian, genealogist and a Living Legend of Alexandria. She maintains two blogs, https://theotheralexandria.com/ and https://findingthingsforu.com/.