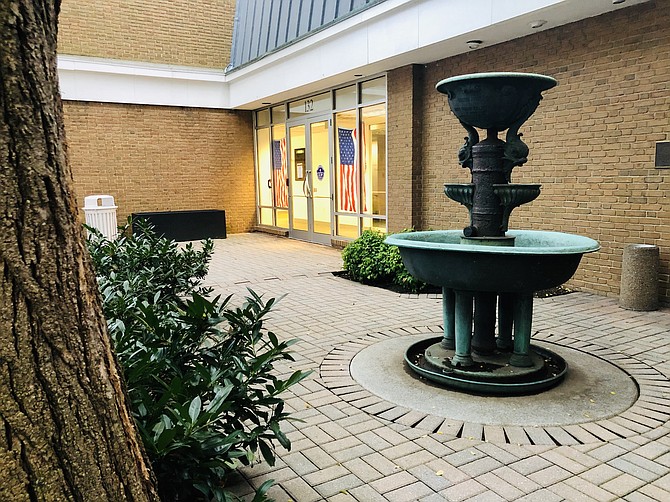 When absentee ballots are distributed in the next two weeks, voters will have a new option to exercise their franchise: a drop box, which will be installed outside the Registrar's office on North Royal Street. As the election approaches, more drop boxes will be installed at three satellite voting locations throughout the city. On Election Day, every voting precinct will have a drop box where voters can deposit absentee ballots instead of walking into the building and putting themselves at risk of contracting COVID-19.
"We are in unprecedented times, and we don't have to choose between addressing public health and ensuring a functioning democracy," said Tram Nguyen, co-executive director at New Virginia Majority. "We can do both."
The House of Delegates and the state Senate have both approved legislation appropriating $2 million to fund prepaid return postage for mail-in absentee ballots, legislation that also sets the stage for registrars to install drop boxes for voters who don't want to use the Post Office. The development comes four months after Attorney General Mark Herring ditched the requirement that absentee ballots include the signature of a witness. Republicans fear the political parties and advocacy groups will be able to weaponize data about unreturned absentee ballots.
"For my friends on campaigns that always lament that the field staff isn't respected enough, well, they should get a lot more respect now because they're basically becoming election officials," said state Sen. David Suetterlein (R-19). "They're going to be the ones responsible for getting these ballots in."
WHEN THE PANDEMIC hit in March, the League of Women Voters filed a lawsuit challenging Virginia's requirement that every voter filling out an absentee ballot must open, mark and refold their ballot in the presence of a witness. Now that the signature of a witness is no longer required on every absentee ballot, the addition of new drop boxes may rewrite the rules for get-out-the-vote operations. Information about voters that have requested absentee ballots but not returned them is publicly available information, and Senate Republicans attempted but were unable to restrict use of the drop boxes to voters casting their own ballots. Democrats say fears of ballot harvesting are overblown.
"We are in unprecedented times, and we don't have to choose between addressing public health and ensuring a functioning democracy. We can do both."
— Tram Nguyen, New Virginia Majority
"Nobody has to hand their ballot over to anybody if they don't want to. It's the voter's decision," said Del. Marcus Simon (D-53). "If somebody comes along and offers to help get their ballot where it needs to go, it's up to each voter to decide whether they want to trust that person to take the ballot or if they want to do it themselves. We're trying to make it as easy as possible."
Lawmakers did not lay out what kind of security precautions would need to be in place for the drop boxes, leaving that task for the Department of Elections to determine at a later date. Because the drop boxes are expected to be up and running when absentee ballots are distributed two weeks from now, election officials in Richmond are racing against the clock to come up with a system to ensure confidence in the new system. Republicans say they're worried about the unfunded mandate on localities for the cost of securing the drop boxes during all hours of the day and night.
"I guess you could secure it with people," said Del. Robert Bloxom (R-100). "I guess you could get the sheriff to do it, although there's probably not enough deputies to do it. Or I guess the governor could call in the National Guard."
ELECTION FRAUD is extremely rare in Virginia, and the few problems are discovered and prosecuted long before any votes are cast. For example, in 2016, a volunteer for New Virginia Majority submitted falsified voter registration applications to the Alexandria registrar's office. Election officials identified the problem and turned the case over to the prosecutor's office, who secured a conviction. Now Republicans are imagining scenarios where the drop boxes could be used for mischief.
"I don't believe you will ever know if someone decides to attack a box, to pour bleach in a box or to destroy a box," said Sen. Steve Newman (R-23).
Democrats say the risk of not having drop boxes outweighs the risk of having them.
"Let's make our elections smooth, and let's make it easier to cast a vote," said Sen. Adam Ebbin (D-31). "This will help on Election Day so people can move in and out of precincts efficiently without being stuck in long lines breathing on each other."
The pandemic election this November will feature many new ways for voters to participate, changes designed to allow people to keep their distance and avoid waiting in lines and coming in contact with people who might spread COVID-19. Here in Alexandria, election officials will be setting up three satellite voting locations, one at Beatley Library, one at George Washington Middle School and another at Minnie Howard School. The Beatley location will be open to voters during business hours from Oct. 23 through Oct. 31 excluding Sunday Oct. 25. Satellite voting locations at George Washington and Minnie Howard will be open on Saturdays.
"It's certainly going to be an interesting election," said Angela Maniglia Turner, who became Alexandria's Acting General Registrar in July. "But we have a great staff and lots of great city support."
Two of the city's voting precincts are in senior facilities, which need to be moved considering health concerns. Voters who normally vote at the Ladrey Senior Center will instead vote at the Charles Houston Recreation Center. And voters who normally vote at the Hermitage will instead vote at John Adams Elementary School.
In addition to these changes, several new laws are now in place allowing for no-excuse absentee voting and requiring election officials to accept mail-in ballots that are postmarked on Election Day as late as the Friday after the election.