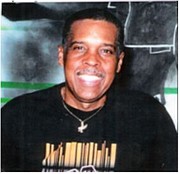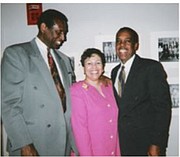 Harold Bell was the first African American to host and produce his own Sports Talk Radio show, "Inside Sports," in Washington, D.C. from 1972 through the 1990s. On his "Inside Sports'' radio show he interviewed some of the most famous athletes in pro sports.
In 1975, Bell interviewed Muhammed Ali after he knocked out George Foreman in Zaire, Africa, on NBC affiliate WRC-TV 4, in Washington, D.C. This made him the first African American to host and produce his own television sports special in prime time.
His interviews and friendship with Ali and Red Auerbach put his "Inside Sports" talk show on the map. Bell also interviewed national sports figures like Jim Brown, Spencer Haywood, Harry Edwards, Sonny Hill, Don King, Bighouse Gaines and John Chaney, just to name a few. These relationships became valuable when Bell was advocating for NFL All-Pro Willie Wood and NBA pioneer Earl Lloyd to be inducted into their respective Halls of Fame after they were "Blackballed" by their leagues.
When Lloyd called Bell asking him to campaign for his induction into the NBA Hall of Fame, he in turn called Auerbach and then-Washington Times sports columnist Dick Heller for support. His next call was to an old friend, civil rights icon Congressman John Lewis, to be on the campaign team for Lloyd.
During the NBA All-Star weekend in Washington, D.C. in 2001, Bell's nonprofit organization "Kids In Trouble" organized an Earl Lloyd Day in Alexandria. The Saturday festival included a basketball clinic at Charles Houston Recreation Center. NBA stars Bob Lanier, Al Attles, KC Jones, Sam Jones, Earl Monroe and others attended.
Then-Governor James Gilmore declared it "Earl Lloyd Day" in the state of Virginia. The historic jazz and blues club, "The Bohemian Caverns" in Washington, D.C., was the site that closed out the Earl Lloyd festival with Auerbach as host and basketball legend Sonny Hill.
Lloyd was inducted into the NBA Hall of Fame in 2003 thanks to the efforts of Lewis, Auerbach and Bell who carried the torch for the NBA pioneer.
Bell was no stranger to the City of Alexandria; he worked closely with "The Untouchable" founders, George Logan-El, Lawrence Brown and Michael Johnson. They helped him coordinate his annual toy party for needy children leading into the Christmas holidays.
Another passion of Bell is helping at-risk inner city children.
Bell and his wife Hattie founded Kids In Trouble, Inc., and the Hillcrest Saturday Program in 1968 shortly after the Washington, D.C. riots. The program served neighborhood kids and their families. Their work with at-risk children did not go unnoticed; President Richard M. Nixon invited them to the White House.
Harold Bell was born on May 21, 1938; he is a fourth generation Washingtonian. Bell attended high school at Spingarn where he was an all-around athlete playing three sports. After high school, Bell attended college and played football and basketball. He met his wife in 1967 and they married after the D.C. riots in 1968.
Today, Bell has his own weekly program, "Speak the Truth" Zoom Show every Sunday and Inside Sports Detoxx video show on YouTube. In addition, he is a popular blogger for Black Men in America.com.
Char McCargo Bah is a published author, freelance writer, independent historian, genealogist and a Living Legend of Alexandria. She maintains two blogs, https://theotheralexandria.com/ and https://findingthingsforu.com/.