Early Voting at the Fairfax County Government Center for the Democratic Party Primary Election begins April 23. It runs through June 5, 2021. In Virginia House District 86, Del. Ibraheem Samirah gears up against challenger Irene Shin. Samirah won the special election on Feb. 19, 2019, to fill State Sen. Jennifer Boysko's former seat. House District 86 includes portions of Herndon and Reston in Fairfax County and portions of Loudoun County.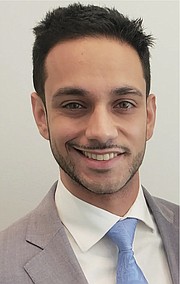 Del. Samirah, a dentist, said he is passionate about his job as a delegate and the responsibility as a progressive Democrat. Dedication is cemented in the hard-earned lessons brought up by his father, a political scientist-activist who was exiled for eleven years from the United States following 9-11 due to his faith and ethnic background. "But his passion and dedication were contagious," said Samirah. "You learn the government does have a lot of power to reverse course to fix things."
SAMIRAH has focused on healthcare and housing. He referenced several legislative actions he introduced and sponsored related to healthcare. He said constituents talk to him when he is out in the community door knocking or at events. He said they tell him about walking into a local hospital and leaving with a $50,000 medical bill they can't pay except to sell their possessions and homes. "These are neighbors…who are being displaced...because they can't pay for health care."
Samirah said he sponsored VA HB 1479 in the 2020 session. It reduced the cost of pharmaceuticals on Medicaid and more.
Samirah discussed Virginia HB 42 in the 2020 session which he sponsored. The bill directed the Board of Medicine to annually issue a communication to every practitioner licensed by the Board who provides primary maternity obstetrical or gynecological health care services reiterating the standard of care pertaining to prenatal and postnatal depression. "It was incorporated into a bill alongside a Republican who was passionate about it as a pharmacist, and we passed the bill together," said Samirah.
HB 2002, introduced by Samirah, increases Medicaid coverage for a child whose parent is receiving child support in legal separation or divorce cases. The intake officer provides the practitioner information on the possible availability of medical assistance through the Family Access to Medical Insurance Security or other government-sponsored coverage.
"This is very wonky, nerdy stuff you get when you have a doctor in the legislature," Samirah said.
Samirah's second focus is the cost of housing. "People are paying very high rents in Herndon and Reston," he said. For the viability of the local community to continue access to amenities it has, it needs the success of properties and returning investments to owners.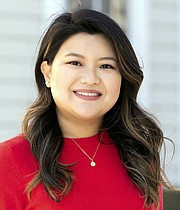 CANDIDATE IRENE SHIN said she had spent most of her career dedicated to building a more inclusive and more accessible democracy. The daughter of Korean immigrants, Shin said she learned her view of the world and how to interact through her small business immigrant family. For them, the cost of health care was out of reach and always paid out of pocket. When her father became ill, he went to Korea for treatment. "It was then I realized there was something wrong here. You shouldn't have to fly to a different country for healthcare," she said.
As an adult, Shin got her start as a community organizer in underserved and immigrant communities. "Helping get people registered to vote, explaining...participation in our democracy, and civic engagement. (They) are critical components of building a healthy democracy... a government that is fulfilling its role in serving our people," she said.
Shin said there are many languages spoken in Herndon and Reston. "How do we express the age-old problem of democratic politics? How do we engage a constituency that doesn't speak the language and that the Democratic Party is unwilling to invest in."
Shin said her top priorities as a delegate are implementing universal Pre-K across the Commonwealth and working toward paid family medical leave. As she talks with people in the community, Shin hears concerns about wanting development done intelligently, so it is transit-oriented. She also hears concerns about the value of preserving the local quality of life.