Northern Virginia has one of the most competitive Democratic primaries for the House of Delegates this year, a race that's complicated by an incumbent who's seeking reelection while also seeking a statewide office. Del. Mark Levine (D-45) will be appearing twice on the ballot, once toward the top of the ticket for lieutenant governor and then again for reelection to the House seat that he's held since his first election in 2015. Double filing is extremely rare in Virginia politics, and nobody in living memory has ever attempted to pull off what Levine is hoping to accomplish on June 8.
"He's adopted a very risky strategy in being on the ballot twice because that may send a signal to many of the voters in his district that he's got his eyes on something bigger," said Mark Rozell, dean of the Schar School of Policy and Government at George Mason University. "I think that's a real problem for him, especially if the vice mayor can get any traction outside of her electoral constituency."
Levine is one of three candidates who are hoping to win reelection to their House seats while also seeking a statewide office. Del. Lee Carter (D-50) has two primary opponents for his seat in Manassas while also running for governor. Del. Jay Jones (D-89) is facing a primary opponent for his House seat in Norfolk while also running for attorney general. Del. Elizabeth Guzman (D-31) recently dropped out of the primary for lieutenant governor after campaign finance records revealed that one of her opponents in the House primary raised a significant amount of money and she was in danger of losing both races.
"This is something that's always been allowed, but it's just not something that people have done," said Ben Tribbett, Democratic political consultant. "It's why you see state senators run for statewide office usually, not House of Delegates members, because their elections don't coincide with the statewide races."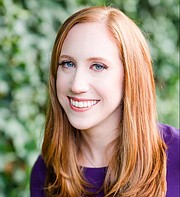 BENNETT-PARKER EMERGED on the scene three years ago during her first campaign for office. Although she was a first-time candidate, she received more votes than any other Alexandria City Council candidate – a distinction that landed her the title of vice mayor. In 2014, she founded a social enterprise known as Fruitcycle to fight food waste and hunger. That organization later merged with the nonprofit organization Together We Bake, which provides workforce training and personal development to women in need.
"My mom always taught me if you're not part of the solution, you're part of the problem," said Bennett-Parker. "My experience on City Council has taught me a lot about the issues that are important to my community and how we need changes and more authority from Richmond in order to better serve our residents."
As a member of City Council, she used her food-manager's license to lead meal production for students who live in poverty during spring break last year at the beginning of the pandemic. She worked with small-business owners to install a mural known as the "Butterfly Effect" on Upper King Street, and she suggested an amendment to the city's environmental policy to make sure that all future public buildings are net-zero for carbon emissions. She says Levine's track record of bills that have been signed by the governor is well below average.
"It was surprising to see that Delegate Levine has always been at the bottom since he's been in office, including the last two years when Democrats have been in power," said Bennett-Parker. "I think that's disappointing for our community, layered on top of the fact that he's simultaneously running for two offices and treating this district as a backup plan."
In terms of votes she would cast in the House, there's no discernible daylight between Levine and Bennett-Parker. She's in favor of limiting campaign contribution and banning contributions from corporate donors, particularly public utilities like Dominion. She supports banning assault weapons and joining the National Popular Vote Interstate Compact, and she says she would vote in favor of eliminating mandatory minimum sentences for non-violent crimes. Even on a controversial issue like universal firearm registration, Bennett-Parker is in alignment with Levine in favor. As a result, the choice for voters is one of style and personality rather than issues and ideology.
"He wants to be in a higher office, and this seat is his backup plan," said Bennett-Parker. "I'm running because I'm completely focussed on this community and delivering real results for our community and want to keep doing that."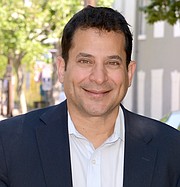 LEVINE FIRST RAN for office in 2014, when longtime U.S. Rep. Jim Moran (D-8) retired. He came in fifth place in a field of seven candidates with 7 percent of the vote. The following year, when Del. Rob Krupicka (D-45) declined to run for reelection, Levine scored a surprise victory with 28 percent of the vote. Since that time, he's built a reputation in the Democratic caucus as someone who is willing to speak in a frank and direct manner — sometimes to the discomfort of other House Democrats who view that approach as counterproductive. Levine dismisses criticism that he's too harsh by pointing to former U.S. Rep Barney Frank (D-Mass.) and the late U.S. Sen. Ted Kennedy (D-Mass.)
"Did they ruffle some feathers? I think both did. But they were effective," said Levine. "I think my constituents would rather have someone who fights hard for their values than someone who quits when the going gets tough so as not to upset people."
Levine dismisses the "batting average" calculations posted to the Virginia Public Access Project as a misleading indicator. Comparing the number of bills introduced to the number of bills signed by the governor, he says, overlooks other ways a lawmaker can influence the process. He says he routinely lets other lawmakers carry bills that were his ideas, including legislation expanding marriage equality, rejecting voter identification and cracking down on predatory lending.
"Some people really care about having their names on the bills. I care about getting the language right," said Levine. "The batting average is silly. If the bill I wrote become law, I'm claiming it."
If he loses the primary for lieutenant governor and wins another term in the House, Levine says, he would continue his service as chairman of the public safety subcommittee and the constitutional amendment subcommittee — seniority positions that the district would lose if voters reject the incumbent for a newcomer. He says he would continue working for constituents on everything from getting vaccines to dealing with the Department of Motor Vehicles. And, he says, he would lead the fight in the House for things like banning assault weapons and joining the National Popular Vote Interstate Compact.
"It's easy to put forward bills that do nothing or do little and everyone agrees on that are not controversial. Anyone can do that," said Levine. "I tend to take the bills that other people think are too hard to pass."
House District 45 Profile
median age: 37.5
median household income: $125,000
poverty : 7 percent
married population: 50 percent
median home price: $624,000
bachelor's degree or higher: 76 percent
foreign-born population: 15 percent