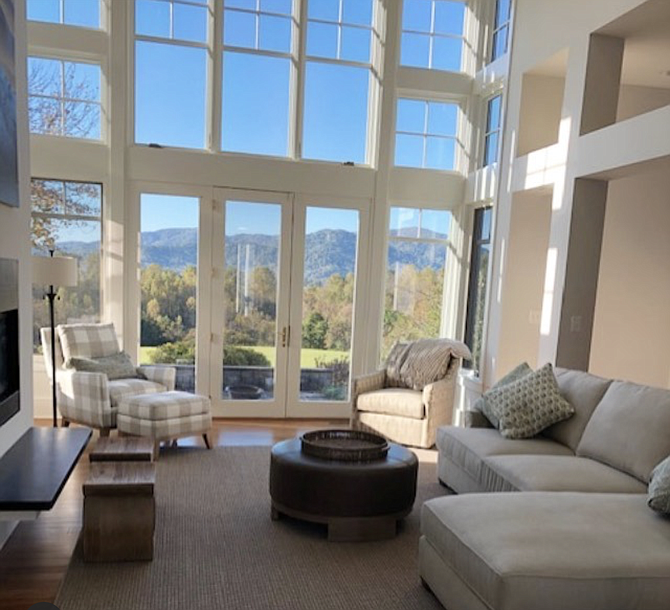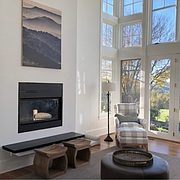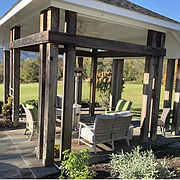 If you drive about an hour and a half west of Arlington, through winding roads lined with trees that create a kaleidoscope of changing tree leaves, you'll reach the village of Syria, Virginia and an idyllic vacation home curated by designers from The Nest Egg.

The living room has floor-to-ceiling windows that let in spectacular views of the mountainous landscape. The homeowners, a married couple with adult children and grandchildren, purchased the property as a vacation home where they could host family and friends.
"[They] wanted to create a very clean and minimal design aesthetic so that the outside view was the main focal point of the space," said Ann O'Shields, who owns The Nest Egg. "Our designer Jennifer Edwards brought that to fruition by incorporating a natural palette to mimic nature, including linen, green and ivory colors. "
Hanging above the recessed fireplace is a painting of a mountain range, also in subtle shades of grey and cream, that complements the space and maintains its continuity.
"We also painted the walls a light color so as not to distract from the view," said O'Shields. "We brought in a sisal rug and leather to add touches of natural fibers and textures."
Edwards created a reading nook by placing a chair and ottoman between the fireplace and one of the windows. A plus sofa and chaise are positioned in front of the fireplace to add warmth.
"We … used performance fabrics for the sectional and chairs so that her kids and grandkids would feel as though they could enjoy the space without worrying about anything," said O'Shields.