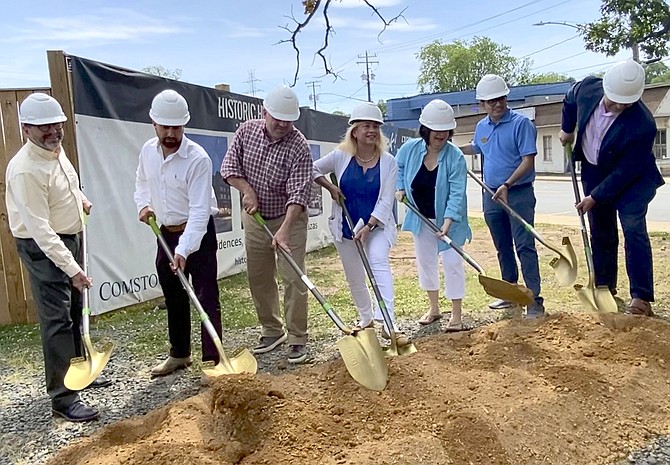 The critical $1.4M reconstruction and signalization of the Elden-Center Streets Intersection Improvements began June 7. Mayor Sheila Olem, Councilmembers, and town staff joined in a ground-breaking ceremony for Project Number: 03-ST-00-0. Besides signalization, improvements include brick sidewalks, storm drainage, and the construction of duct banks for future undergrounding of utility improvements. The reconstruction and signalization are vital because of existing and anticipated increased traffic volumes at the intersection.
Comstock Herndon Venture, LC, and the Town of Herndon completed the land transfer of the 4.7-acre parcel at the Elden-Center Streets location in Dec. 2020. Comstock's planned redevelopment is the centerpiece of Herndon's revitalization of its historic downtown. Comstock razed buildings on the land in April of 2020. 
Olem said in a statement that the town's cost of the $1.4M project was approximately 10 percent of the total "thanks to our professional town staff." 
Revenue streams for the improvement included funds generated by the Virginia General Assembly's approved final version of House Bill 2313 (HB 2313). "The additional revenues generated in the Northern Virginia Planning District are deposited into a Northern Virginia Transportation Authority Fund, with 30 percent of the funds being distributed to the member localities for use on transportation projects," according to Virginia's Legislative Information System.
Funds will support the duct bank construction for future undergrounding of utilities, according to the Town of Herndon FY2021-FY2026 Capital Improvement Program. As of June 7, the Town website reported VDOT Revenue Sharing added $775,000 in financing sources. According to Town Manager Bill Ashton, the project came in under budget by $400,000.