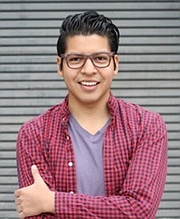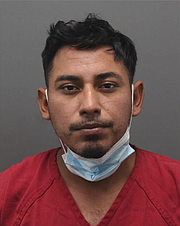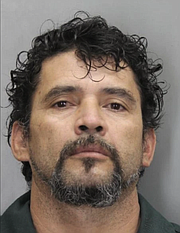 With 13 homicides reported across all of Fairfax County already this year, the unprecedented spike in killings is a concern. Locally, two Sterling men have recently been charged with murdering a 26-year-old Herndon man whose body was found in the Chantilly Shopping Center parking lot in the early morning hours of May 7.
 Fairfax County Chief of Police Kevin Davis and Major Ed O'Carroll, Commander of the Major Crimes and Cyber and Forensics Bureaus updated the community on the charges during a press conference at Public Safety Headquarters hours after the charges were filed on July 1.
"It's not acceptable to take a life in Fairfax County, or anywhere else for that matter, and we're proud to announce this morning that at least two killers have been taken off the streets and charged with these crimes," said Chief Davis. 
Wilson Navarro Escobar, 29, and Rigoberto Rodriguez Hernandez, 43, both of Sterling, face charges of second degree murder and the use of a firearm in the commission of a felony in the fatal shooting of Brian Constanza-Campos shortly before 4:45 a.m. on May 7, according to Chief Davis.
"Brian [Constanza]-Campos, no criminal history, hard-working man was shot several times and killed in the middle of the night, in a parking lot and left for dead... We've had ten homicides in Fairfax County. That's an increase from where we were last year. That doesn't sit well with us. It doesn't sit well with our community," Chief Davis said. "These cases will continue to receive the highest priority investigative and patrol and leadership attention from the Fairfax County Police Department," Davis said.
President Joe Biden will speak on Wednesday, July 7, about what he "is going to do to help address" rising crime, especially gun violence, "as we've seen around the country it is a concern of many Americans," said White House press secretary Jen Psaki the same day Chief Davis made his announcement.
O'Carroll said that while charges against the two men were filed, an important step towards justice for Constanza-Campos, the case remains active. Reviewing the process, O'Carroll said members of the FCPD detective bureau were called to the scene.
"Our team went to work. Six days later, on May 13, Rigoberto Rodriguez Hernandez was arrested for a separate shooting that occurred that same day [May 7], in the same vicinity, but several hours prior to the murder. We believe that the first shooting occurred around 1 a.m.," O'Carroll said. He added that Hernandez was charged with malicious wounding, discharging a firearm in a public place, and brandishing a firearm relevant to the 1 a.m. event on May 7. Since that time, Hernandez has been held in custody at the Fairfax County Adult Detention Center with those charges against him.
As for the second suspect, Escobar, O'Carroll said he is in custody at the Loudoun County Adult Detention Center. "The day after the murder, on May 8, deputies from the Loudoun County Sheriff's Office arrested Escobar on unrelated charges. They found him in possession of a firearm… [Loudoun County] called us immediately and notified us of their arrest, and that the weapon was recovered," he said. 
O'Carroll added Escobar's weapon remains in evidence in addition to another firearm that FCPD has in its possession. They will be forensically examined to determine if used in Constanza-Campos' murder.
O'Carroll said detectives identified a connection between the suspects, Hernandez and Escobar, and Constanza-Campos. They also believe, O'Carroll said, that the two men charged were involved in an earlier dispute with Constanza-Campos. "This case illustrates several indisputable facts. Crime knows no boundaries, nor does justice."
FCPD detectives worked with a multitude of agencies from Northern Virginia. They went to West Virginia to follow up on "critical leads that were involved in this case," according to O'Carroll. He added that FCPD has evidence that shows what happened before Constanza-Campos' murder, what happened after, and probable cause.
"Our work is not done," O'Carroll said. "If you have any information; you saw something; you heard something, contact the Fairfax County Police Department. We can be reached at 703-246-7800. You can contact Fairfax County Crime Solvers and provide information. You can remain anonymous."
His brother, Sebastian, wrote, "Brian was truly one of the kindest people I have known throughout my life. As a kid, he would always try to care for injured birds or mice. I think he felt bad that most of those injuries were caused by our cats and wanted to make that right with the universe… I know as an adult he has helped friends get through extremely rough times in their lives. His second family at the Chantilly Shopping Center, where he was employed as a server for 14 years, all loved to work with him… Brian was taken before his time, and I will miss him dearly. I wish I had spent more time with him over the last few years…Please make the time for the people you care about and tell them you love them."
Anthony Guglielmi Director, Public Affairs Bureau Fairfax County Police Department provided data to the Connection relevant to Chief Davis' statement regarding homicides in Fairfax County increasing this year.
"Homicides in Fairfax County are up 100 percent, with 10 through July 1, compared with 5 in the same period last year," Guglielmi wrote in an email. 
He clarified, "Homicides in independent cities or towns like Herndon or Vienna are counted by those jurisdictions because they are considered separate governments and they have their own FBI ORI number to report crime."  Another example, Guglielmi said, would be if the Virginia State Police investigated a homicide on the highway within Fairfax County.
Tracking Homicides Within the Boundary of Fairfax County
Thirteen Homicides in Fairfax County, Virginia [January 1-June 30, 2021] – ten reported by Fairfax County Police Department and three reported by the Town of Herndon Police Department.
Fairfax County Police Department 
Victim 1: February 10, Samuel Onyeuka, 20 years, male, shooting in Reston – Reston Homicide Suspect Arrested in Newport News – Connection Newspapers
Victim 2: February 19, Anthony Isai Benitez, 18 years, male, shooting in Annandale – Fatal shooting reported late Friday in Fairfax County, police say + Fairfax shooting victim identified – Washington Post
Victim 3: March 11, Santos Antonio Trejos, 40, male shooting in Reston – Man dead, another person injured in Reston shooting | WTOP
Victim 4: April 17 – Hernan Leiva, 58 years, male, beating/stabbing in Falls Church – Man found slain in Fairfax County – Washington Post
Victims 5 and 6: April 25 – two juveniles, shooting in Springfield – Social Media Argument Results in Homicide of Two Teenagers – Connection Newspapers
Victim 7: May 7 – Brian Contanza-Campos, 27 years, male, shooting in Chantilly – Man Fatally Shot in Chantilly Parking Lot – Connection Newspapers
Victim 8: May 22 – Kenneth Jahelka, 66 years, stabbing in Reston – Detectives Investigate Domestic-Related Homicide in Reston – Connection Newspapers
Victims 9 and 10: May 26 – Col. Edward McDaniel, 55 years and Brenda McDaniel, 63 years – shooting in Springfield – Husband, wife fatally shot in Springfield, Fairfax County police say – Connection Newspapers
Herndon Police Department
Victims 11, 12, and 13: June 19 – Claudia Menjivar, 34, Dayana Gutierrez, 12, and Carlos Josué Gutierrez, 9, shooting in the Town of Herndon – Triple Homicide in Town of Herndon Home – Connection Newspapers