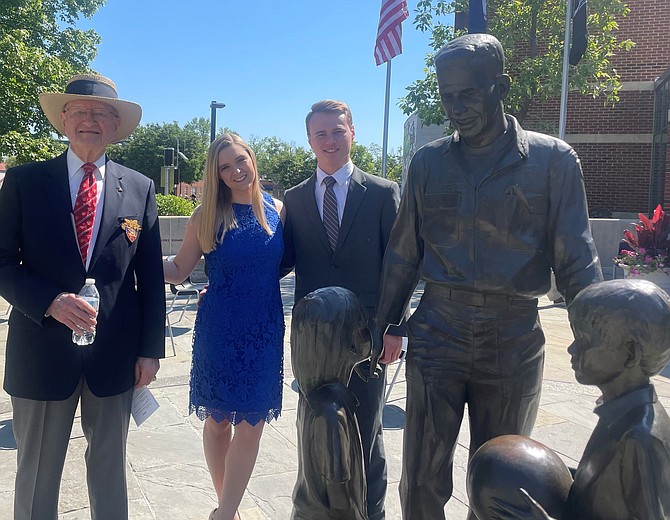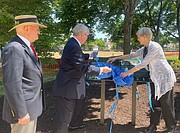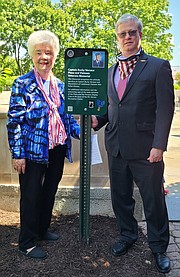 With less than two weeks remaining in his second tour of duty, Rocky Versace was looking forward to returning home to Alexandria. The Class of 1959 West Point graduate had made plans to attend seminary with the intention of returning to Vietnam as a Catholic priest and missionary working with orphans.
But on Oct. 29, 1963, Versace and his unit were ambushed by the Viet Cong in the Mekong Delta. The story of his heroics that day and during his time in captivity as a Prisoner of War resulted in Versace posthumously being awarded the Medal of Honor.
Alexandria's Vietnam Veterans Memorial in Del Ray bears Versace's name and now, through the efforts of the Friends of Rocky Versace and the City of Alexandria, that narrative was unveiled May 15 during an Armed Forces Day ceremony at the local landmark.
"Rocky was an amazing man," said LTC Jack Bohman (ret), a classmate of Versace at West Point. "For anyone who has not been to the Plaza, please come and learn more about him. There is never enough time to talk about all of the things that Rocky has done."
The Rocky Versace Plaza and Vietnam Veterans Memorial was dedicated in July of 2002 in front of the Mount Vernon Recreation Center, not far from where Versace grew up. But until now, no public information signage told the story of Alexandria's only Medal of Honor awardee.
"Lieutenant Gen. Rick Kelly and his wife were driving around Del Ray last year looking for something to do during the pandemic," said Friends of Rocky Versace organizer Kevin Rue of the retired Marine Corps general. "They came to visit the plaza and Gen. Kelly recalled that 20 years earlier, as a senior staff officer for the Joint Chiefs, he reviewed the Medal of Honor submission on behalf of Rocky. When he saw that nothing at the plaza really told Rocky's story, he reached out to the city and suggested the signage."
Through the efforts of James Spengler, Director Department of Recreation, Parks, and Cultural Activities for the City of Alexandria, and RPCA Division Chief Jack Browand, the signage was approved and ready in time for the Armed Forces Day ceremony.
Two signs were unveiled, one on each side of the plaza. Curtis Versace, widow of Rocky's youngest brother Steve Versace and sister-in-law to Rocky, unveiled one plaque along with Bohman. Reba Bayliss, Gold Star widow of USAF Capt. Paul Martin Bayliss, and son Patrick unveiled a second plaque.
The names of the 68 Alexandria residents who were killed or missing in action in Vietnam are inscribed at the plaza. The annual Memorial Day ceremony honoring all service members who have died will be held at the Plaza at 11 a.m., May 31.
"I never miss an opportunity to celebrate and talk about Rocky," Bohman added. "He is a true hero."