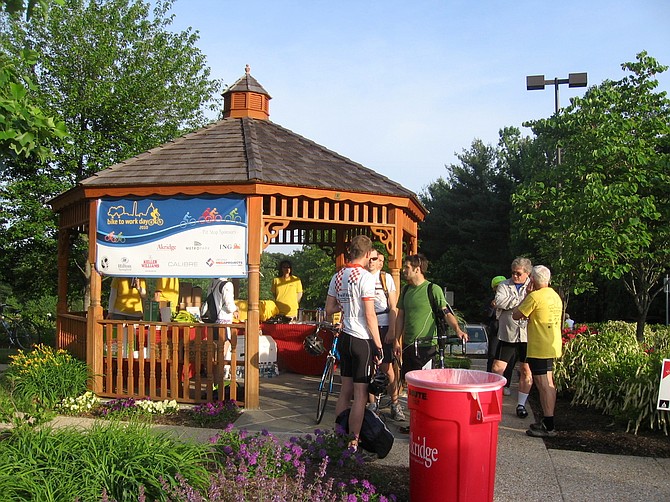 It's been 20 years since Bike to Work Day began, and it grows each year showing that there is another side to commuting that uses no gas, has health benefits and is fun, even if it's only one day a year for many.
As with everything else in the covid year of 2021, it's going to be a little different this year but a good thing nonetheless. There will be tee shirts with the skyline logo, like years past, but at the pit stops, it will be a quick stop for the tee shirt, and on to points beyond – no convoys, no chit chat at the pit stop or a local mechanic checking the brakes as seen in previous years. Since many are working from home still, it will be grab the tee shirt and head back to the home office. The Bike to Work organizers are fine with that, it says on the website.
One change is the "pit stop," name; it's now called "tee shirt pickup point." At the stops, there will be a strict covid policy, which includes a mask requirement, no hanging out and socializing, any food is required to be pre-packaged and not consumed on the premises, and no live raffles. "The emphasis will be on bicycling for exercise and mental well-being," the Bike to Work website said. Cyclists will travel on a one-way path to pick up the tee shirt and each rider will be socially distanced.
Hitting the Trail
According to Colin Browne, Communications Director at the Washington Area Bicyclist Association, Bike to Work Day is run by the Metropolitan Washington Council of Governments' Commuter Connections program. WABA is part of the steering committee and manages the registration process. Although it was cancelled last year to comply with CDC recommendations about gathering, participation has grown every year. In 2018, about 17,000 people signed up for the event and in 2019, just under 20,000 people signed up. This year is impacted by the pandemic with offices closed and many working from home, although people working from home can still ride up and get a tee shirt. "We're expecting 10,000 or so riders this year, as many people are still working from home, and pit stop activities have been scaled back," said Browne.
Trail Use and the Pandemic
The Capital Trails Coalition looked into trail use, and found that across the nation, trails are seeing more users than ever before. According to data provided by Rails-to-Trails Conservancy, nearly every week in 2020 saw an increase in trail users compared to numbers of the same week in 2019. Several weeks in March and April even saw as many as 1.5 – 2 times the number of trail users as the year before. In Arlington at the W&OD Bon Air Park counter, there was a 37 percent increase in bike use, and a 23 percent increase in people running and walking.
Benefits from Bicycling
According to BTW, there are a number of benefits from bicycling to work. These include:
· Reduced Health Care Costs
· Decreased Absenteeism
· Increased Productivity
· Reduced Parking Costs
· Increased Corporate Social Responsibility