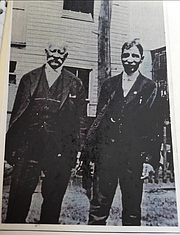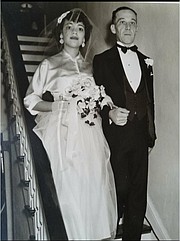 The weather in May of 1861 was cooler than usual and that affected many of the outside businesses in Alexandria; this was especially true with the Fish Wharf. Lower May temperatures also caused fewer fishing activities. The Civil War also had begun and many Union Army troops were in Alexandria, and their large presence in the City curtailed outside activities for the residents.
Robert Henry Dogan and his mother, Elizabeth 'Betsey' Duvall Dogan owned two Eating House buildings that Robert built with white pine wood at the Fish Wharf. On May 23, 1861, the day before Colonel Ellsworth was killed, the military took possession of Robert and Betsey's business enterprises and the homes at the Fish Wharf. Robert and his mother moved out of their properties at the Fish Wharf. Luckily, they owned houses on Union Street, between King and Prince Streets, and they resided there. One year before the War ended in 1865, Betsey Dogan died.
Robert had some hope that he would be compensated for his losses during the Civil War when Congress created "The Southern Claims Commission," on March 3, 1871. The Commission was formed solely for compensating loss of properties during the Civil War. Robert submitted a claim to be compensated for his losses and his mom's.
In his claims' folder, he described the destruction of their enterprise by the Union. The Union used the lumber from his business for fuel. He said he ran his business during the fishing season, and once the fishing season was over, he stored the oaks and hay in the buildings. In the claim's folder, he also said that he shared one-third of his mother's property with his siblings, Governor Dogan and Susannah Dogan Carter. After listing all the losses, he came up with an amount of $500.
As he was awaiting payment from the government in 1874, Robert became a barkeeper on Union Street near Oronoco Street. In 1878, the Federal government only awarded him $90 for all his losses.
The Dogans in Alexandria were free people of color. They had been free as far back as the 1700s. They were skilled laborers, entrepreneurs, firemen and politicians. They lived in Alexandria during the time when Alexandria was part of Washington, D.C. They witnessed the Civil War, Reconstruction and Jim Crow eras.
The early Dogans were members of Christ Church in Alexandria and later held memberships in Roberts Chapel, St. Joseph's Catholic Church and Alfred Street Baptist Church.
Robert H. Dogan has relatives still living in and around the Washington Metropolitan area. These relatives are his father's third great-nieces and nephews. They are Betty Dogan Roberts Nicholas, John Leonard Dogan, William S. 'Billy Boy' Dogan III, Herbert Gray Dogan, Thelma Dogan Lucas, Margo Dogan Farrar, Hope Dogan Kane, Elaine Dogan Augustus and Fredrick Dogan. They are all the children of William S. 'Bill' Dogan II and Blanchie Jackson.
Unknown to this generation of Dogans, their family had a front row seat at historical events going back to the 1700s. The history of Alexandria is their history. The Dogans should be proud to know that the new waterfront in Alexandria (the section of Old Fishtown), was the area their family settled when it was a thriving fish wharf. It is now a tourist attraction with restaurants and hotels.
Mrs. Betty Dogan Roberts Nicholas and her nephew, Christian Bentley, shared their family pictures and stories for this article.
Char McCargo Bah is a published author, freelance writer, independent historian, genealogist and a Living Legend of Alexandria. She maintains two blogs, https://theotheralexandria.com/ and https://findingthingsforu.com/.