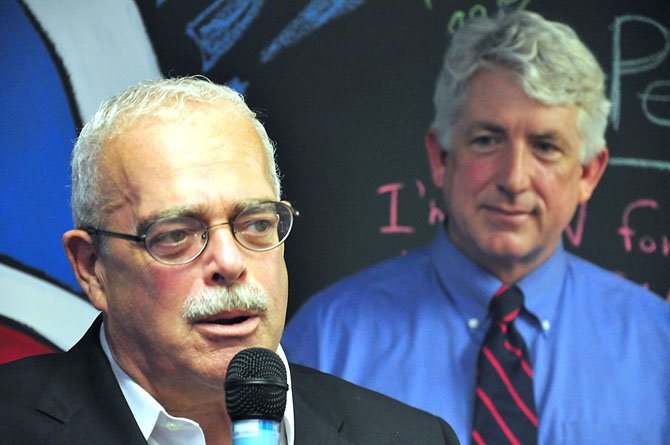 Reston — Dozens of volunteers and supporters for the campaign to re-elect Barack Obama opened the new Herndon-Reston office on Reston Parkway, Saturday, Aug. 4, one of six offices opened on the president's 51st birthday in the Northern Virginia area.
"In the past we've worked on campaigns out of each other's homes, but this year we thought offices might work better," said Michael Fruitman, a volunteer. "One of our primary focuses will be going out and registering voters, but we'll also be engaging local neighborhoods to get their feelings on the election."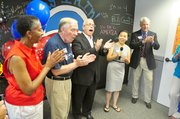 Fruitman said voter registration is a priority for the entire area, and they want to make sure that people keep their addresses and other information updated, particularly in this area where people move around often.
"I think everybody in the community can get behind the voter registrations," he said. "And like 2008, we're taking a grassroots approach, which is always a challenge, but the enthusiasm is there, and that's one of our great strengths."
Kathy Fredgren, a neighborhood team leader for Hunters Woods, worked on the Fairfax office during Obama's 2008 campaign.
"I felt that I could not not get involved, I'd like to get 100 percent of Restonians out to vote in November," she said. "Even in a good year we only get around 50 or 60 percent, so hopefully we can get something like 90 to 95 percent turnout. I think everyone in the country needs to realize what people around the world have gone through just to be able to cast a ballot."
Fredgren said the local approach this year is a little different than it was during the last campaign.
"We're focusing much more on the neighborhoods, staying in our own, to make sure we really get to know our voters," she said.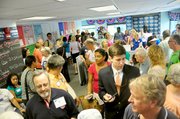 Local officials, including Rep. Gerry Connolly (D-11), State Sen. Mark Herring (D-33), Del. Ken Plum (D-36), Fairfax County Supervisor Cathy Hudgins (D-Hunter Mill) and Herndon Town Councilmember Sheila Olem, attended the opening.
"We are at the epicenter of Northern Virginia, which s the epicenter of the Commonwealth of Virginia, which will be the epicenter for this presidential election," Connolly said. "The fact that we're talking about Virginia as a competitive swing state, and we've had a lead for most of the last year, you've got to pinch yourself if you're of a certain age."