Alexandria — West Springfield senior April Robinson struggled to catch her breath outside of the visiting locker room at T.C. Williams High School. The Spartans had defeated the Titans 40-37 on Jan. 30 when Robinson's breathing became enough of a challenge that it caught the attention of head coach Bill Gibson.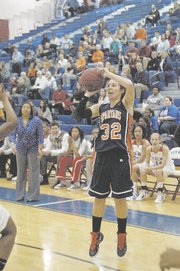 "Are you OK?" Gibson asked his star point guard. "What's the matter?"
"I'm out of shape," a winded Robinson responded.
Realizing No. 32 was simply out of gas, Gibson had some fun.
"We all knew that," he said with a laugh. "That's why we've been trying to get you in shape."
Robinson, a 2011 first-team All-Met selection, has worked on her endurance since returning to the lineup after missing more than a month with an injured ankle. Monday's match-up with T.C. Williams was Robinson's fourth game after her five-week layoff and the Titans put her to the test. TC pressured Robinson in the backcourt and forced her to work up and down the floor.
"The full-court pressure was killing me," Robinson said. "I'm so tired. … I haven't run like that in practice."
"The full-court pressure was killing me. I'm so tired. … I haven't run like that in practice."

--- West Springfield point guard April Robinson
Robinson, who will play for Duquesne University next season, had a relatively quiet offensive night, finishing with five points. But in a tightly-contested match-up of the top two teams in the Patriot District, Robinson made her biggest impact when it mattered most.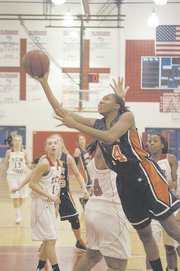 West Springfield led 38-37 with less than a minute to play when Robinson came up with a steal and called timeout. After the Spartans extended their lead to 40-37, Robinson blocked Gaby Moss' potential game-tying 3-point attempt. Moss got another chance in the closing seconds, but the Titan standout's 3-point shot was off the mark.
"[Robinson is] a smart player," Gibson said. "She understands the game and she knows time and situation. That's a big plus. Her basketball IQ is really good."
The victory improved the Spartans' record to 17-2, including 11-0 in the district. West Springfield's two losses came during a holiday tournament in Miami, when the team was without Robinson. The Spartans have won nine in a row and are ranked No. 6 in the Washington Post's top 20. The Titans dropped to 13-6, with a 9-2 district mark. TC's two district losses have come against West Springfield by a combined four points.
Georgetown-bound Logan Battle led the Spartans with 19 points. Lindsey Mares finished with eight points and Amy Berglund added six. Battle said there hasn't been much difficulty in getting used to having Robinson back on the floor.
"It's pretty much like falling back into old times," Battle said. "It's not something we have to get used to. It's more something she needs to get used to --- getting back into conditioning and getting back into the game."
West Springfield will travel to face West Potomac at 7:30 p.m. on Thursday, Feb. 2. The Spartans' next home game is Feb. 7 against Woodson. The Patriot District tournament begins Feb. 14.