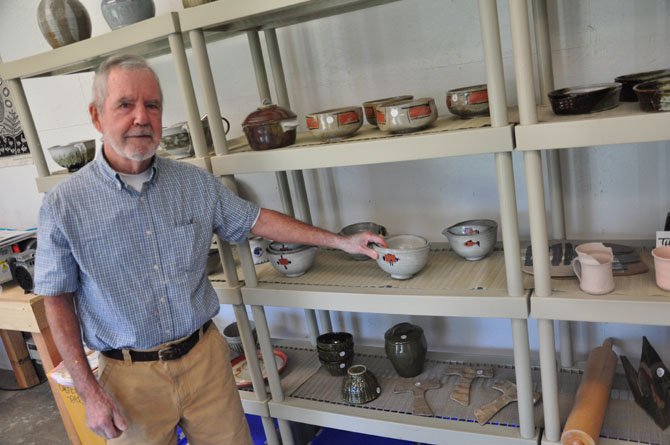 Great Falls — Fourteen years ago, David Cowdrill was visiting a pottery in Maine, when a door opened for him, literally and figuratively. The potters opened up their workshop to him, showing him how to create ceramics, and Cowdrill, an engineer by trade, found a new opportunity.
"When I got home, I enrolled in Northern Virginia Community College, and a few other community colleges, then the Corcoran Gallery in the city," he said.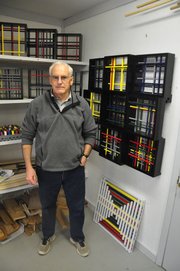 Cowdrill was one of more than 30 artists who displayed their works, studios and more during the annual Great Falls Studios Tour Saturday and Sunday. Painters, sculptors, photographers, fiber artists and more showed the hundreds of attendees how they create their work.
Cowdrill creates his art in the second bay of a two-car garage he added to his house several years ago. He had the side insulated and heated, and now he has his pottery wheel and other equipment ready and available, including a stack of interior design magazines that he draws ideas from.
"I'm inspired by form and decoration. Things like fabric and lamps can give me ideas about what to incorporate," he said. "I usually work around three, four days a week, though since this summer I've been working five days a week and some weekends to get ready for the tour."
For many visitors, the tour offered a chance for art aficionados to see more than a finished result, also the raw materials, designs and equipment that goes into each piece.
"It's so fascinating to see the space where these beautiful works are made, what the artists sit in, what they see while they create. I think the tour is a really unique way to get a glimpse of that process," said Amy-Lee Banks of Herndon.
Sculptor Jonathan Fisher says he is interested in colors, mostly primary colors. Starting from age 7, when he got a jig saw from his parents, he has been putting together geometric abstract sculpture.
"Geometric abstractions were very popular in the 1950s, and I like to say I'm sort of re-inventing that style," he said. "I like looking at built environments, such as fences, grates, other repeating patterns that appear."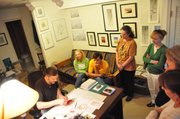 In addition to displaying a number of different works, Fisher designs and builds a child's game every year for the tour, this year's featured peg-shaped pieces that could be advanced along by the board by a large blue and red die.
Florian Scott of Vienna said her favorite stop on the tour featured two forms of art she had previously known absolutely nothing about.
"I was spellbound by William Tuthill and his lithographs and the Japanese woodblock prints. He had an old printing press in his downstairs kitchen, and I found the process of making the drawing, transferring it to the stone and then the paper to be very interesting," she said. "And the process that went into one of his wood blocks was so delicate, it's only fitting that those beautiful works come out like they do."
Great Falls Studios is a consortium of more than 90 artists that live and work in Great Falls. More information is available at www.greatfallsstudios.com.