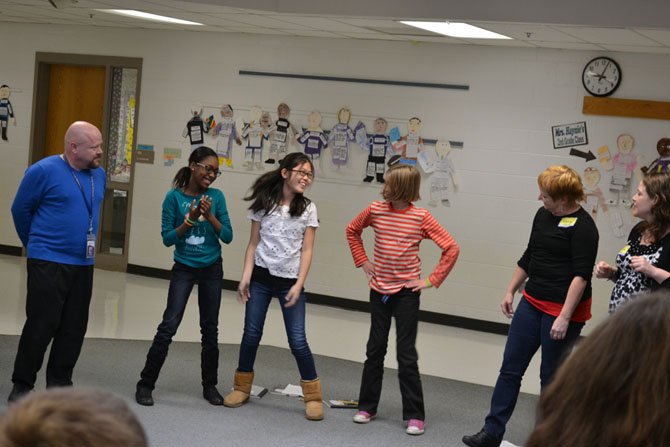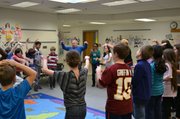 The students in Danny Seagraves' fifth grade class know their grammar. They know spelling, math, and social studies too. These are all teachable subjects, according to the Spring Hill Elementary School teacher. But one concept that just can't be taught, says 20-year teaching veteran Danny Seagraves, is creativity.
This is where Rebecca Holderness entered the scene. Holderness is associate professor of Acting and Directing at the University of Wisconsin-Milwaukee. She is in town as guest director of Kafka on the Shore, a production currently on stage at the Spooky Action Theater.
Holderness often likes to share ideas from an outside community with the acting group she is working with. When she arrived in Washington for this production, networking led her to Mr. Seagraves' Spring Hill classroom. Holderness, Seagraves, and a class full of McLean fifth graders are very pleased with the results.
"You have a good time laughing and being humorous. And the ideas aren't always trapped inside of you."
-- Fifth grader Ryan Wilson
Holderness and Madeline Muravchik, an area-based artist and teacher who is working with her, met with the students on two occasions to help inspire their creativity. The children were tasked with writing their own "hero's journey," and eventually shared their stories about time machines, aliens, zombies, meteors, robots, bullies, and a host of other topics.
Fifth grader Ryan Wilson thought the program was fun. "It lets ideas go around," he said. "You have a good time laughing and being humorous. And the ideas aren't always trapped inside of you."
"It's made me a better writer," added Ipsa Kathuria, "especially when I'm writing at home with my dad."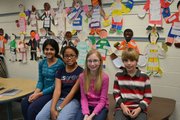 Danny Seagraves, who spends time writing in his spare time, was thrilled with the result of the initiative. "Getting the creativity from them gives me the basis that I need to make a good writer," he said. "If you can just get that spark of creativity started, the rest is gravy."
"It helped spark our imagination," said fellow student Grace Bourhis. "It helps open up new things that you wouldn't think about if you didn't do this." Classmate Sarah Gaiter added, "If we want to become an author, we could use this information that we got from this lesson to express ourselves."
Holderness feels that the time invested has been helpful. "It's a huge tool for them; the structure, the analytical tool. It will really help them. It's an engaging way to learn. And I had a much more enthusiastic and energized rehearsal with my actors the day that I taught the fifth graders." Holderness is planning to display the children's stories and artwork in the theater lobby.
Kafka on the Shore, by Haruki Murakami, adapted by Frank Galati will run through Sunday, Feb. 24, at Spooky Action Theater, located on 16th Street in northwest Washington.