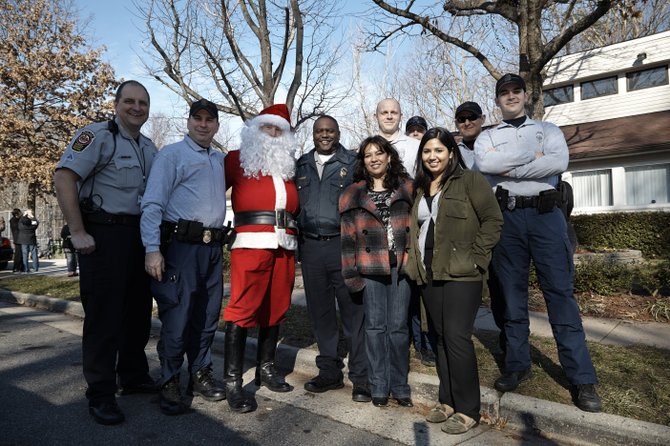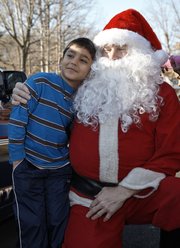 Supervisor Lt. James Tanler of the Neighborhood Patrol Unit, Crime Prevention Officer J.T. Frey and the Green Hills Estate Property Manager Claudia Lazo decided it was time to bring a little cheer to the Green Hills community in West Springfield after a year that held a shooting in an occupied home and other drug related activity in the neighborhood. The force and the Green Hills community celebrated their efforts and progress towards making the neighborhood safer with a visit from Santa.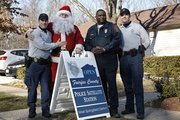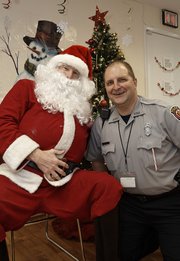 The event took place the day after the Newton, Conn. shootings.
Captain Joe Hill of the West Springfield District Police Station took his officers on Saturday, Dec. 15 to continue what he described in an email to the Connection "[as work the force has been doing] with a troubled community over the last several months to stem the tide of violence and apathy in the Green Hills community."
"The officers of the West Springfield District developed a plan to take back that community through aggressive patrols and community outreach [after the neighborhood shooting]. We have been very successful in running the bad element out and now start the community outreach to the young people and parents to foster trust and cooperation," wrote Hill.
On Saturday, Dec. 15, Hill's officers escorted Santa into the community and shared cookies, prepared by the Citizen Advisory Council, with the children and the property manager and gave gifts to every child with the help of the Toys for Tots program.
Hill said, "Needless to say, after dealing with the tragedy in Connecticut, this event gave us a little joy that was stolen on Friday. The officers were so charged up they took Santa for a ride around the community and hit several other communities to pass out candy canes to any kid they saw. It did our hearts good."