"Some people find cooking in winter challenging because a lot of people are focused on eating tomatoes and tomato salads in the dead of winter."
— Chef Kristen Robinson
The stove is fired-up, a sauté pan is sizzling and the thud of a steel knife blade hitting a wooden chopping block fills the air along with the woodsy aroma of fresh thyme. The temperature outside is frigid, but the kitchen feels like an inferno as Chef Kristen Robinson drives a knife though a fennel bulb, kale leaves and a tough-skinned butternut squash with staccato succession.
"One of my favorite things to cook in winter is potpie with beef, kale and potatoes or squash," she said.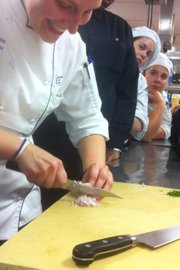 While many people lose culinary inspiration during the winter, Robinson, a self-admitted "food nerd," relishes the chance to create cold-weather meals with fresh, seasonal bounty. She and other local chefs say that even though the days are shorter, the temperatures colder and energy levels lower, winter meals can be just as inspired as fare served during more temperate times of the year.
"Some people find cooking in winter challenging because a lot of people are focused on eating tomatoes and tomato salads in the dead of winter when those vegetables are not in season," said Robinson, an Arlington resident and culinary instructor at the Art Institute of Washington. "There are a lot of vegetable options like kale, butternut or acorn squash and potatoes."
In the Alexandria kitchen of nutritionist Bonita Lillie of Arlington's Marymount University, a chill in the air heralds the arrival of piquant broth-based soups brimming with whole grain penne, cannelloni beans and kale, and showered with flakes of Parmesan cheese.
"I take advantage of all the vitamin-packed winter produce," said Lillie. "I start building my meals around the vegetable, then I'd probably have lower fat turkey sausage and maybe a side of beans. Cheese and beans also make good, hearty meals."
Arlington-based culinary instructor Andie Nelson says her biggest cold-weather culinary hurdle is that her vigor drops along with the temperatures: "Like most people, I have less energy in winter," said Nelson. "So I spend one day making satisfying a meal that I can eat for a few days."
On her list of winter must-haves is a stew made with beef that she marinates overnight, Asian-style soups and shepherd's pie with ground turkey instead of beef. "Other simple ideas are root vegetables like carrots, parsnips and sweet potatoes that I roast with sea salt and olive oil," said Nelson. "I also make crispy kale where I remove the leaves from the stems, sprinkle the leaves with sea salt and olive oil and roast for about 20 minutes. They make a great snack."
Potomac, Md., area Chef Susan Limb of Praline Bakery and Bistro in Bethesda, Md., also enlists the make-ahead method during winter: "When you get home from work, you don't feel like cooking and you don't have a farmer's market during winter," said Limb. "I like to make larger batches of hearty soups that can be a meal rather than an appetizer. They take longer to make, but you can [cook] them on the weekend, put them in the freezer and pull them out during the week."
Chicken and vegetable potpies are another of Limb's favorites: "It is not very difficult matter. It is a matter of getting the right vegetables like celery, carrots and onions, and boiling them with the chicken."
Robinson says that if used correctly, a crock pot can be a crafty weapon in the arsenal of the kitchen weary. "A lot of people find crock pot food bland because it is often under-seasoned, but you can do a lot in a crock-pot," said Robinson. "I think what happens is that the average American home cook thinks the crock pot does the work for you, but you need to add much more seasoning than you do with regular cooking."
Robinson adds that many vegetarians feel left with limited options during winter months. "I make a vegetarian bulgar wheat, quinoa, pink lentils and mushroom," said Robinson. "It eats like a hearty, meaty chili. Another thing you can add to vegetarian chili is barley."