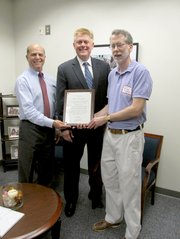 Always civic-minded, Burke resident Diane DiPietro gladly volunteered to be a board member of the Kings West Swim Club, a popular community gathering place in the Kings Park West subdivision.
But in 2005, DiPietro found herself in a difficult position. After years of declining membership and skyrocketing maintenance bills, the swim club shut down. And because of a quirk in state law, DiPietro, as the club's president, was personally liable for the abandoned property, which had become an eyesore, health hazard and a magnet for troublemakers.


FAST FORWARD TO 2013. On Wednesday, July 10, DiPietro was honored as the Braddock District Citizen of the Year during the annual Best of Braddock Awards for her part in transforming the nine-acre swim club property into the county's newest park – Rabbit Branch Park on Tapestry Drive.
"Diane was tireless in her efforts in getting a blighted and unused property converted into something positive for her community," said Bill Barfield, chairman of the Braddock District Council of Community Associations (BDC), which hosts the annual event to recognize and celebrate community volunteerism. The Braddock Supervisor John Cook co-hosted the event, held at the Kings Park Library.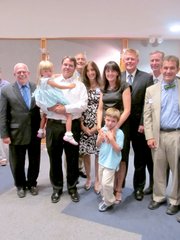 "I was completely caught off-guard," DiPietro said. "This was such a team effort." DiPietro worked closely with Tony Velucci, Braddock's appointee to the Park Authority Board, and Cook (R-Braddock) to transform the dilapidated swim club into parkland and a storm-water retention basin. In addition, DiPietro worked with local legislators who changed state law to protect those who volunteer on community boards.
The annual event drew more than 100 guests, including U.S. Rep. Gerry Connolly (D-11), State Senators Dave Marsden (D-37) and Chap Petersen (D-34), State Delegates David Bulova (D-37) and Eileen Filler-Corn (D-41), and Chairman of the Fairfax County Public Schools Board Ilryong Moon.
"You know it's a special event when this many politicians show up," Cook quipped.
"Volunteering is the rent we pay for the air we breathe," said Connolly in his remarks to the crowd. He also told one of his trademark jokes. "In Fairfax County, we believe there is no problem on God's green earth that cannot be solved with another task force."
"It's about all of you giving that little extra that has made the difference," Cook said during the ceremony. "We may not be unique, but we are a special community when it comes to volunteers."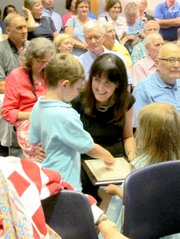 After presenting certificates to the "official" Best of Braddock winners, Cook presented a "surprise" award. Barfield was honored for his work as chairman of the BDC for the past four years. He was recently elected 2nd vice president of the Fairfax Federation of Citizens Associations. In the last decade, Barfield has served as president of Edsall Park Community Pool Association (2003-2006) and president of Country Club View Civic Association (2006-2007). BDC Treasurer Kevin Morse, a member of the Burke Conservancy, was also honored for his volunteer efforts on behalf of the BDC.
"Each year we are so pleased to let residents know they have neighbors who are actively showing how powerful community engagement can be," Cook said.


TO NOMINATE a person or group for the Best of Braddock Awards, email ann.sharp@fairfaxcounty.gov. For more information on the BDC, go to bdcfx.org.