"We have to step up to this question. … Are we going to walk away from this tonight and say, 'That's just the way people live?' Well, it's not the way people should live."
—Supervisor Cathy Hudgins (D-Hunter Mill)
Under a bright moon on a chilly Monday morning, a team of volunteers and homeless advocates roamed the woods near Reston Town Center to put a name and a face to those in Fairfax County considered "chronically homeless."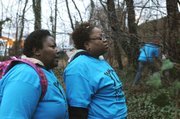 One of the teams, which included Supervisor Cathy Hudgins (D-Hunter Mill), stumbled across wood scraps, broken branches and pieces of plastic that served as the home for Thomas, a 40-year-old unemployed carpenter from Florida who had been living under a cluster of trees since Christmas Eve.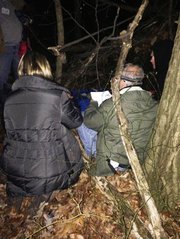 Wearing several layers of clothing, including a dark blue hoodie for warmth and camouflage, Thomas apologized for his living conditions.
"I'm really sorry you all had to come out like this. Be careful of the branches," he told volunteers.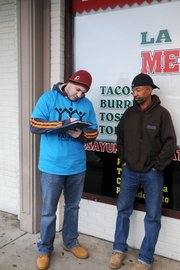 Thomas said a rough divorce and getting laid off from his job contributed to his homelessness. He said the temperature, nearing 40 degrees by 5 a.m. on Monday, Feb. 25, wasn't "too bad for sleeping. I've slept in worse."
"My biggest concern is getting robbed or beaten. That's why I try to protect myself with this little fortress of branches and blankets," he said.

Thomas was just one of 462 chronically homeless individuals found in the woods, in cars, and in tents last week.
Armed with flashlights, food, gift cards and assorted items of warm clothing, more than 200 volunteers and homeless advocates fanned out across Fairfax County for three days—Monday, Feb. 25, through Wednesday, Feb. 27—roaming the woods and other homeless "hot spots" to count, photograph and get names and histories for the county's chronically homeless.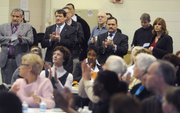 Key findings from Registry Week
Volunteers and homeless advocates gathered the following information from the 462 individuals they interviewed last week. The information was released during a community debrief at Jubilee Christian Center on Monday, March 4.
Nearly a quarter were between 18-34 years old
Nearly half were employed
The largest number of chronically homeless (151) were found in the Route 1 corridor
More than three-quarters of the chronically homeless were male
"Unable to pay rent/utilities" and "job loss" were the most often cited reasons for homelessness
40 percent had a physical disability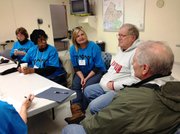 THE UNPRECEDENTED EFFORT to create a name and photographic "registry" is a component of the 100,000 Homes Campaign, a nationwide initiative to help nonprofits and local governments prioritize and allocate housing and support resources for the chronically homeless, defined as those living consistently without a home for more than a year.
The county's goal is to get half of them in housing within three years.
"I was struck by the differences in talking with someone in their 'home'—in their space—versus when we are in shelter and other settings where we must set the rules," said Kerrie Wilson, CEO of Reston Interfaith. "There was a sense of pride from those homeless interviewed when they showed volunteers their campsites."
"After giving my gloves to a man who immediately placed them on his hands for warmth, I realized that this is home and his struggle every day," said Dean Klein, director of the Office to Prevent and End Homelessness (OPEH).
Cedric Smith, 50, who has been homeless for five years, was found living in a tent behind a Herndon shopping center. Supervisor Cathy Hudgins asked him how he became homeless and his goals for the future.
"Five years from now, I hope to be in my own apartment," he said. He told Hudgins and other volunteers that he also misses his two children, who live in southern Virginia.
"I want to have a place where they can visit. They're in my heart every day. … They're my primary concern and they keep me going every day," he said.
HUDGINS, who has worked extensively with Fairfax County's nonprofits to help find affordable housing for the homeless, said she hoped the 100K homes campaign opens doors and eyes to the plight of homeless individuals.
"We have to step up to this question. … Are we going to walk away from this tonight and say, 'That's just the way people live?' Well, it's not the way people should live," Hudgins said.
"The theme for me this week was persistence," said Amanda Andere, executive director of FACETS. "Most importantly the persistence of the men and women we met living in their cars or on the street. In the worst conditions they continued to smile and seemed hopeful this caring community would help find them a home. Some of them were gone to work before we got there or were on their way back to the woods from an overnight shift."