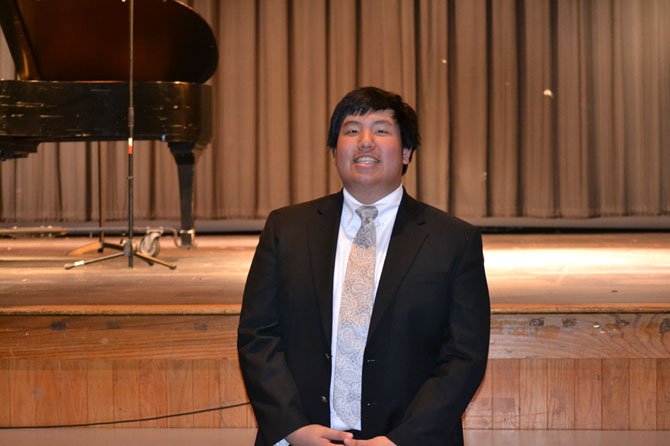 In his senior recital, Langley High School student Paul Li performed piano solos and presented many of the compositions that he wrote during the school year. He conducted the concert, entitled "A Musical Journey," at the Langley High School Auditorium on Friday, May 10.
Beginning with Richard Starer's Prelude and Toccata, his piano solos also included the first movement of Beethoven's Sonata Opus 10 No. 3, Bach's Prelude XXI, and Chopin's Grande Valse Brilliante Opus 34 No 1.
Senior violinist Gene Kim joined Li onstage for a performance of Amore, which Li composed for the upcoming wedding of his cousin, who was in the audience. Under the baton of Li, nine members of the Langley High School Chamber Orchestra performed two of his compositions for string ensemble. As foreshadowed by the title, A Reminiscence contained sentimental themes, made more meaningful by the many fellow seniors in the performing group. The concert concluded with Li's composition, Spring Fair, which painted pictures of outdoor fun and a carousel waltz.
Students conducted by Paul Li were violinists Alan Chiang, Gene Kim, Alexandra Fraley and Hoonie Kim; violists Alexander Quion and Sara Ibrahim; and cellists Constance Chiu, Harrison Nam and Patrick Quion.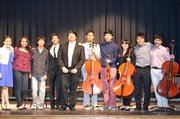 Li thanked his piano teachers who were in the audience, Nancy O'Neil Breth and Jo Lombard, his former piano teacher who started him on composition before age nine. Li expressed gratitude towards his composition instructor, Dr. Francis McKay.
After the concert, a member of the audience, Diane Hara, commented, "the wonderful thing about Paul Li's compositions is that you can visualize his music." It is no wonder that Li will pursue a double major in film composition and accounting at William and Mary. He performed his senior recital a day after taking his Advanced Placement exams in Latin and English Literature.
Paul Li's work for chamber orchestra, Orpheus: Reise in die Unterwelt was, performed earlier in the school year during a Langley High School Orchestra concert.