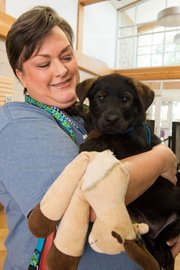 What does the Fairfax County Animal Shelter do when it takes in an extremely young animal, one too young to adopt out? It finds a foster family willing to take on the responsibility of nurturing the sometimes days-old animal until it is old enough to be adopted permanently.
Recently a long-time volunteer at the Fairfax County Animal Shelter, Teri Baker, of Fairfax, celebrated fostering her 50th puppy. The vast majority of those puppies are American Pit Bull Terriers — a breed surrounded by controversy and misinformation.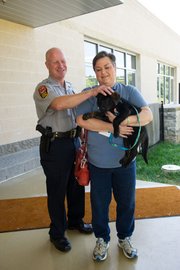 Baker noticed that many pit bull puppies were coming in, but few were being fostered. She saw a need and stepped in to fill it. And she says it evolved from stepping in to meet a need to something she and her husband Doug Baker absolutely love to do.
"There is a mythology that they are more aggressive than other dogs, that they bite more than 'normal' dogs … they're just dogs … very smart dogs," said Baker. She acknowledges that there are specific challenges that they incur with pit bull puppies as they working on printing and bonding with the dogs, "For example, we teach the puppies never to put their mouths on us."
"It's very satisfying to know in a small way we have started a lifetime of unconditional love for the adopting family and that's what keeps us going."
Tawny Hammond, director of the Fairfax County Animal Shelter praises Baker's efforts and commitment, "Volunteers are the engine that drives the shelter and helps us achieve our mission. Without volunteers we couldn't do what we need to do."