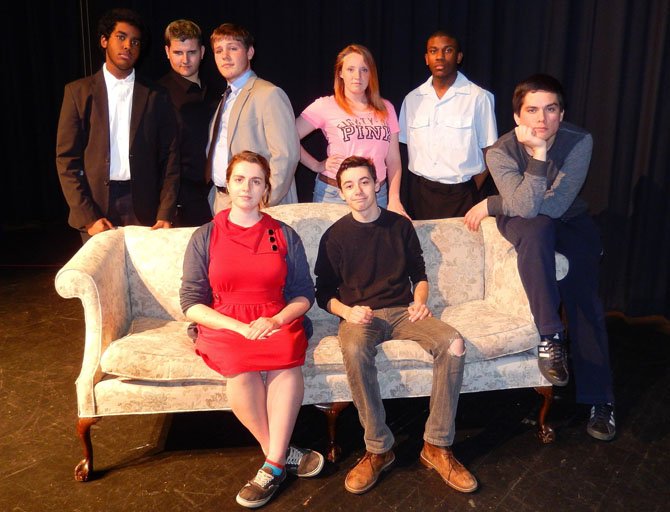 An aptly named show that'll have the audience roaring with laughter, "Funny Money" is Centreville High's upcoming Cappies play. It'll burst upon the stage Friday-Saturday, May 2-3 and May 9-10, at 7:30 p.m.; tickets are $10 at the door.
"It's an English, comic farce that takes place in modern-day London," said Director Mike Hudson. "There's a mistaken identity that's intentional, and it gets more bizarrely convoluted as the play goes on."
The main character, Henry, finds himself with a briefcase he thought was his, but isn't. And when he discovers it's full of cash, he decides he and his wife will emigrate to Barcelona and live the easy life.
"Trouble is, she doesn't want to leave home, and the hilarity begins when the police show up at their door to investigate two different crimes," said Hudson. "Meanwhile, the bad guys have Henry's briefcase and eventually trace their briefcase back to him."
Calling the show "absolute slapstick," Hudson said it's "almost like Monty Python and very funny. And as the play progresses — and characters lie to cover their actions — it becomes more and more complicated and hilarious."
This play was a smash on London's West End, and the scenes unfold over the course of one evening in Henry and Jean Perkins's living room. The cast and crew of 21 have been rehearsing since February, and Hudson says everyone's doing a terrific job.
"The makeup, costumes and sets are all designed by the students," he said. "And the main actors play well off each other, have sharp comic timing and are doing wonderfully with the witty dialogue."
Senior Connor Gillooly plays Henry. "He's pretty normal; at first, he's wimpy and does what he's told," said Gillooly. "But after he finds the money, he begins doing what he wants, instead of listening to others. He tries his best to control all the chaotic aspects of his life and gets frustrated when he can't."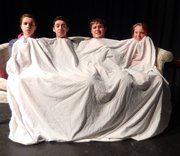 Gillooly loves his role because "Henry tries to be in the know about everything; and when he's not, he's utterly confused and baffled. And that's when he has some of his funniest lines. It's my first lead, so it's stressful; but it's very worthwhile and pays off in the end."
"A lot of the confusion is really funny," he continued. "And there are many shocking lines that are hysterical and will really catch the audience off guard. And the witty, British humor will appeal to a lot of people."
Portraying his wife Jean is junior Miranda Newman. "She's very interested in keeping up her home," said Newman. "She's together, organized and a little uptight. She's kind of bland, always follows the rules and likes to keep things in order. So when Henry says, 'Let's move to Barcelona,' she can't handle it and she starts drinking."
Newman said it's fun playing Jean because "playing someone different than I am — and who's older and drinks — gives me a different perspective. And she has a lot of funny dialogue." Newman said the whole show is fast-paced and "basically, every line is a joke, so it's very funny. It's upbeat and will make people laugh and feel good about themselves."
Junior Austin Burch plays Vic. "He's kind of simple and is easily confused at the latest twist in Henry and Jean's activities," explained Burch. "He tends to be a bit bold and out there, but isn't brave when confronted."
Burch said it's a fun role to play because it's interesting to be totally lost and confused onstage. "Vic's trying to keep up with what's going on — which the audience will be, too, on occasion," he said. "And a lot of his physical actions can be really big and [strange]."
While noting that the audience will enjoy the show's rapid-fire humor and cheerful tone, Burch believes "the normalness of the characters — despite their extraordinary circumstances — will make them relatable."
Adrianna Hauser, also a junior, plays Vic's wife Betty. Hauser described Vic as "quicker to use his fists than his brains," but said Betty is "a really cheerful and bubbly woman, [although] a bit crazy. And they're both family friends of the Perkinses. I feel like she wishes she had more of a life of glamour and money. She's also buxom and makes a lot of sexual innuendoes."
Hauser loves her part because "it's serious, but super-funny at the same time. Betty tries to act mature, but is childish, so I get to be an older woman trying to act prim and proper when she's not." As for the show, she said the audience will like "all the jokes, the confusion with the briefcases and the overall raw humor of the play."