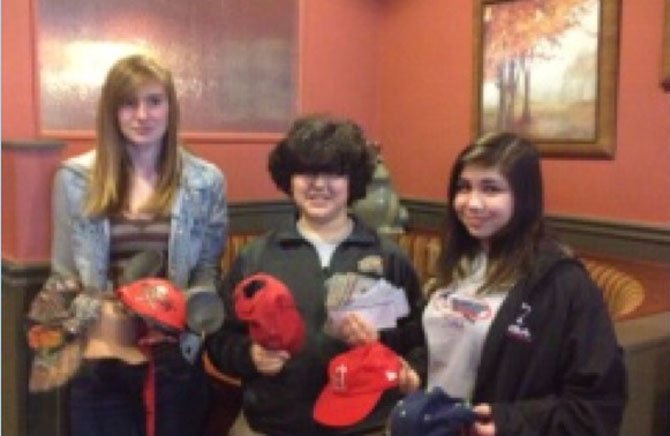 Washington Irving Middle School eighth grade students, Alexandra Belk and Alana and seventh grader, Stephen Goodwin raised over $1300 for their Service Learning Project for Ellie's Hats. The eighth project, needed to include at least 15 hours each, and had to benefit their schools or community and they decided to choose a project that helped both. Ellie's Hats is a nonprofit group that was started when Ellie, a kindergartner who goes to school in Fairfax, found out last year she had leukemia and started undergoing chemotherapy. Her P.E. teacher knew she loved hats and started a collection for her. There were enough hats that a great deal were donated to Fairfax Hospital this past winter for the children undergoing chemotherapy there.
Alexandra, Alana and Stephen wrote letters to family and friends asking for donations and held a Dining Out night at Ledo's Pizza in West Springfield. This project was personal for them because Alana and Stephen's dad has leukemia and has been in and out of treatments for the last 12 years and Alexandra underwent pre-cancer surgery last year which ended up with great results.
With the donations, they will be able to buy spring and summer hats for children at multiple hospitals in the area and have a surplus to buy winter hats next year. Their final reflection write-ups for the project will be finished up next month during spring break.
Hats off to Irving MS for incorporating community service hours into their curriculum.