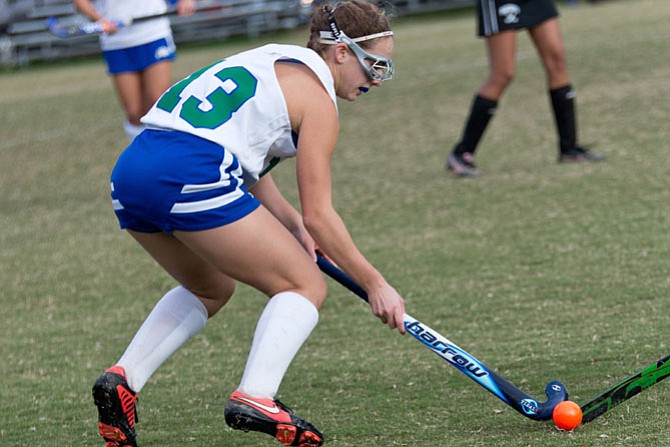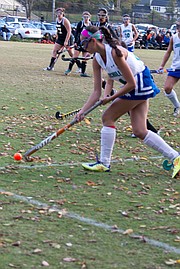 In 2011, the Churchill field hockey team lost to Bethesda-Chevy Chase in the region championship game. The next three years, the Bulldogs had their season end in the region semifinals.
In recent seasons, falling just short of a region title drove Churchill to succeed. This season, however, sixth-year head coach Cay Miller said an inexperienced group will be focused on the here and now, rather than looking to the past for motivation.
"In previous years, those close calls had a really strong impact on us," Miller said. "This year, it is a relatively young team and ... there are a lot of kids who are new to the varsity level this year. .... We've been working mostly on focusing on this year and not talking about things in the past."
Churchill graduated all-state honorable mention defender Carly Kabelac, who is playing at Brown University, and goalkeeper Sophie Ascher, who is playing at Oberlin College. Standout senior forward Annie Moshyedi, who totaled seven goals and five assists last season, suffered a knee injury during lacrosse season and it is unclear whether she will play this season.
While Churchill lost some talented athletes, the Bulldogs do have some strong returning players. Miller said junior midfielder Jocelyn Kelley will provide leadership. Junior forward Jenny Langerman had six goals and four assists last season.
"[Langerman] was a big offensive producer for us last year as a sophomore," Miller said.
Senior defender Nina Kothari, sophomore defender Martina Rabade, sophomore midfielder Faith Kean (2 goals, 3 assists last year) and freshman defender Alexandra Sperling also figure to be key players.
"We're in the stage where anybody can step up and make a difference on this team," Miller said. "It's up to those individuals to step up to see where [they can make a difference]."
Churchill opens the 2015 season at home against Springbrook at 5:15 p.m. on Sept. 9.