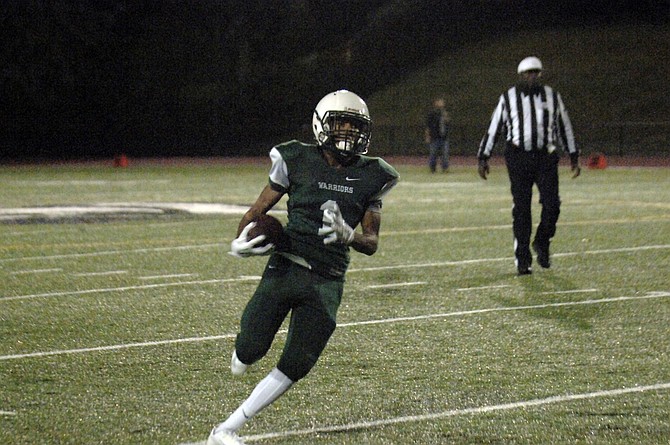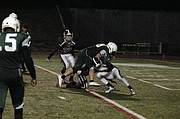 After receiving his first varsity carries during the second half of Thursday's blowout victory against Mount Vernon, Wakefield junior George Brooks described the experience.
"It was fun," No. 33 said. "I haven't done it since freshman [year], so it was …"
Brooks paused.
"I liked it a lot," Brooks said with a laugh.
Brooks plowed through the Mount Vernon defense eight times for 63 yards and a touchdown during the Warriors' 45-0 demolition of the Majors at Wakefield High School. The victory improved the Warriors' record to 3-2 while extending their win streak to three games.
Brooks was part of a Wakefield running back committee that excelled despite the absence of standout tailback Leon Young, who watched from the sideline on crutches after suffering a lower-leg injury during Wakefield's victory over Falls Church the previous week. While Brooks did his damage in the second half, the ball-carrying trio of sophomore James Clark, junior Fred Bowles and senior Chris Robertson helped Wakefield build a 31-0 halftime advantage.
Clark burned Mount Vernon on the perimeter, while Bowles and Robertson piled up yards between the tackles. The Warriors finished with 360 yards and six touchdowns on the ground.
"We were a little bit worried," Wakefield head coach Wayne Hogwood said. "Last week, Leon went out halfway through the second half of that game and we kind of faltered a little bit on offense. Tonight, we came and picked it up as a committee. … Everybody contributed. Chris ran hard, James ran hard, Fred ran well … [e]ven Erik Howard, our third-string tailback, came in and was able to move the ball. By committee, that's an excellent job."
Clark, Wakefield's JV quarterback, was moved into a tailback role for the varsity after Young's injury. Carrying the ball for the first time at the varsity level, No. 1 rushed 10 times for 73 yards and two touchdowns.
Did Clark's approach change following his position switch?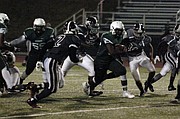 "Not so much, because my first instinct as a quarterback is to scramble," he said. "It's basically the same. My first instinct is to run, so as soon as I get the ball I'm just taking off."
Clark took a toss around the right end for a 15-yard touchdown on the game's opening possession.
"Leon's down, so we moved him up," Hogwood said. "We didn't expect him to have to do this until next year, but we got a taste of it early."
Bowles got the chance to be a primary contributor when returning standout Kareem Hall was ruled ineligible prior to the start of the regular season. On Thursday, Bowles carried 15 times for 103 yards and two touchdowns. His 1-yard score with 10:59 remaining in the second quarter extended the Warriors' lead to 28-0.
"We've had a great, great fill-in by Fred Bowles," Hogwood said. "Fred has stepped in --- he almost looks like Kareem --- so we haven't lost a step."
Robertson finished with 12 carries for 110 yards and a touchdown. His 2-yard score on fourth-and-1 gave Wakefield a 21-0 lead with 2:55 left in the opening quarter.
Howard carried four times for 19 yards.
While Wakefield's running backs played well, Hogwood credited the offensive line for the success of the ground game. Senior left tackle Julius Johnson, junior left guard Xavier Cooper, senior center Miles Kerby, senior right guard Ryan Jones, junior right tackle Ian Harris and sophomore tight end Lamont McDowell opened holes for Wakefield ball carriers, helping the Warriors score 40 or more points in a game for the sixth time since the start of the 2014 season.
Sophomore Bruno Araujo also saw time at guard.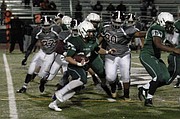 "I've got to give all the credit up front," Hogwood said. "The guys up front do a great job. It didn't matter who we put back there today, we ran the ball well."
The Wakefield defense also put forth a dominant performance, posting its third shutout in the last two seasons. The Warriors held Mount Vernon to 21 yards of offense and two first downs.
"I feel like we played outstanding," said senior nose guard Anthony Tham, whose crushing hit on a Mount Vernon ball carrier was still being talked about after the game had ended. "We had a bunch of injuries, but everybody who got on the field picked it up."
Thursday's game was originally scheduled for Friday, but moved up due to potential inclement weather. The decision to play a day early was made shortly after 2 p.m. Thursday. While Mount Vernon head coach Barry Wells acknowledged both teams had to deal with the situation, he said the Majors never settled into a rhythm.
"Both teams had to react and I get that, [but] we were never in sync from the time we left the school," Wells said. "… It definitely had an impact. We got away from the school late, kids are going home to get stuff to wear in the rain and by the time we got here it was 6:35 … for a 7 o'clock kickoff. [We] asked them to extend the start time, they gave us 7:10, but you can't get off the bus and get into any kind of [successful] rhythm in that short span of time. The kids, their heads weren't there. They didn't play well.
"… [Wakefield is] a good team, they're a strong team, they play smash-mouth football and you've got to be able to stand up against that kind of thing."
Next up for Wakefield is a home game against Edison at 7 p.m. on Friday, Oct. 9. Mount Vernon (2-3) will host Annandale.